The trend for modern rustic interiors seems to be getting stronger and stronger. So much so, that people are creating a countryside look even in city properties.

Here are our suggestions for creating the farmhouse look in your bathroom.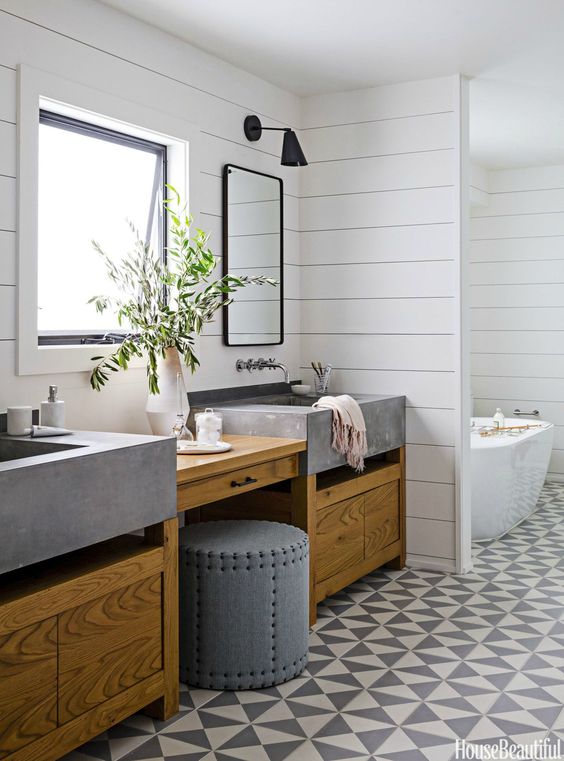 We've chosen this image as it is the most achievable in a variety of houses or apartments.

Just add wood
No farmhouse bathroom would be complete without some element of wood. If you are in a rustic house, you may already have ceiling or wall beams or could add them. If, however, your architectural style does not allow for beams, you can add wood in many other creative ways. Like this custom-made basin and storage unit. We love how they have chosen a wood with a lot of texture to add a rustic vibe.

Touches of industrial
As farmhouses were traditionally part of working farms, industrial touches really suit a farmhouse-style bathroom. Here the black-framed mirror, light and window frame add those touches. Choose materials like black steel or cast iron and paint ordinary window frames black to achieve this look.

Honest textures
The concrete basins in this bathroom really add to the functional feel and, as a raw material, are very authentic. We love them combined with the wall-mounted taps to keep it all very slick and modern.

If in doubt, panel it
Modern houses can be very square and devoid of features. A quick fix for this is to add wall panelling. Here they have painted the panelling white for a light, bright feel but you can source a wide variety of panelling, including very natural wood panelling for an even more rustic look.

Have fun with flooring
The modern farmhouse look also suits modern tiling. Keep the colours simple and the patterns graphic though…colourful swirling patterns will take your interior design off on a tangent.