When planning your new bathroom installation, part of the process is finding a good bathroom showroom. What do we mean by "good"? Well a showroom with a wide variety of brands, possibly an inhouse designer and certainly lots of experienced advice. Once you have found one (or three), here is what to expect and how to get the most out of your visit.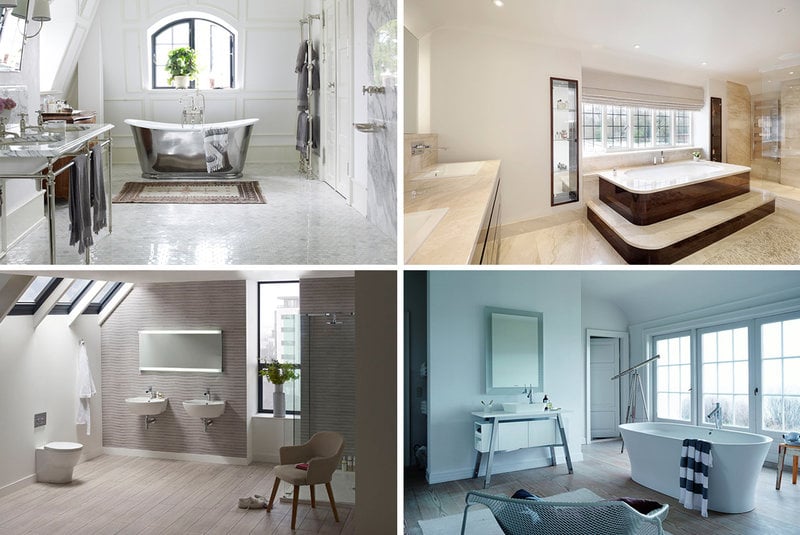 Images top left: Drummonds Usk freestanding bath. Top right: bathroom designed by Ripples. Bottom left: Bayswater bathroom by Laura Ashley. Bottom right: The Philippe Starck range for Duravit

Research first
Before going to local showrooms, try to research your brands. All good brands have websites, current reviews and established profiles that you can research beforehand. This will help you pinpoint the style and quality of brand you are looking for. Then, once you have an idea of the brands you are looking for, search for local showrooms who supply those brands.

Everything on show
The most important element of a showroom visit is that they will have a wide variety of brands and sizes on show. This will enable you to test the quality of the fittings, the finish of the brassware and the size of the bath. You can even hop in the baths and try them for size, fully clothed of course. This will help you start to visualise your new bathroom more easily.

Advice on tap
Most bathroom showrooms have been around for years and offer indepth knowledge of the products they sell. Some showroom salesmen may even have been plumbers before and are therefore truly experienced. The ones to watch out for are those who do not know the product at all and just give you a load of brochures to read.

What to take
On your first visit to the showroom you may just be having a look around, but why not be prepared and take a few details with you. A showroom consultant will be able to look at your bathroom plans and mood boards and advise you on dimensions and fittings.

Arrange a consultancy
Further to this visit, they will probably offer you a free service whereby you can come back with more details and time and discuss your options with an inhouse designer. They can then go away and prepare drawings for you with suggestions you may not have considered before.

Recommended suppliers
Your local showroom will be able to source all of your products and recommend a fitter to come and install everything. They may even offer a full supply and fit service, which can be useful and they can coordinate delivery times and installation, taking that headache away from you.

Above all
Remember that you do not have to commit to anything; no one is forcing you to purchase something then and there. Have a look at a few showrooms, speak to as many people as possible before making any decisions, and enjoy your journey to a better bathroom.