5 Colourful Ways To Brighten Up Your Bathroom
by Tamsin Allen, on May 30, 2018 3:19:00 PM
One of the key interiors switches this year is towards colour and while a lot of us are still hankering after a monochrome bathroom, lots of us are switching to colour. Now colour doesn't have to mean the avocado suites we all thought we had left behind - it can be pops of colour, one feature wall of colourful tiles, or even ceramics that are simply not white.

We've got some great suggestions from our 5 favourite brands on how to inject some colour into your bathroom, and into your life.

First up is Bette, who is launching 3 new 'effect' colours this Autumn. Below are two of their baths in 'Forest' and 'Midnight'.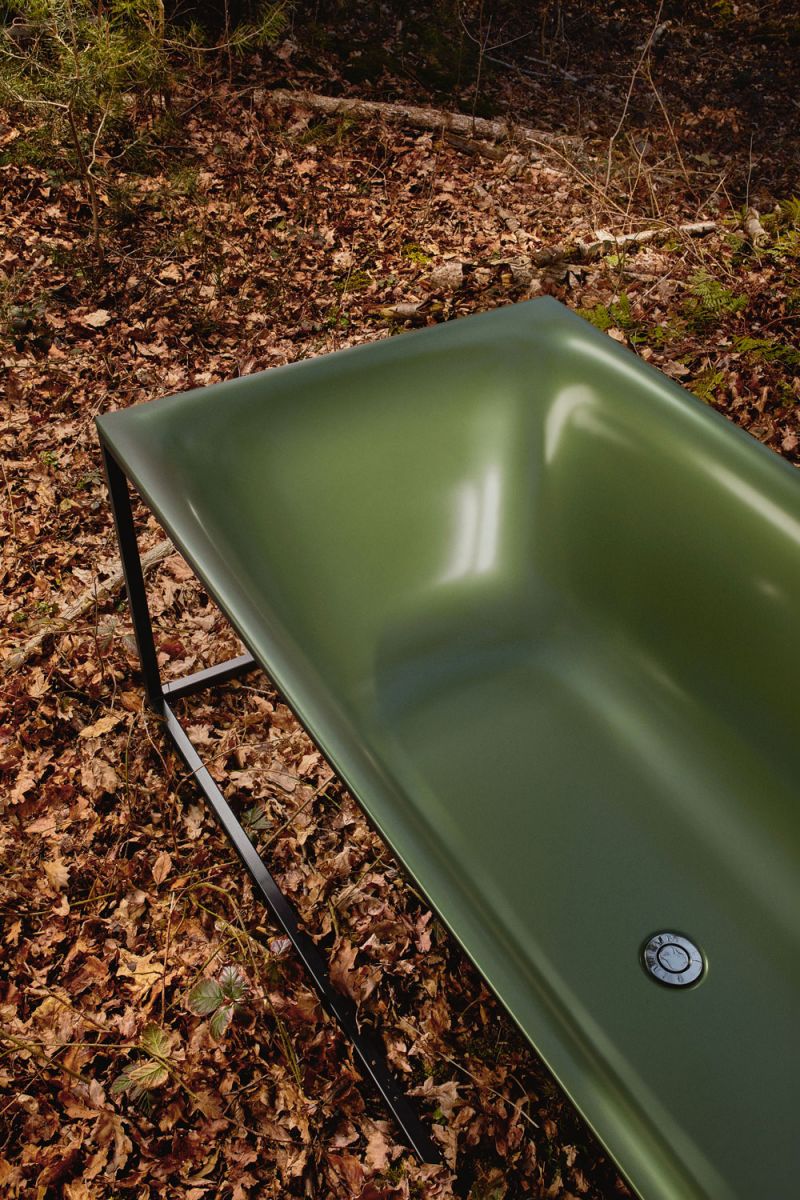 BetteLux Shape Forest Bath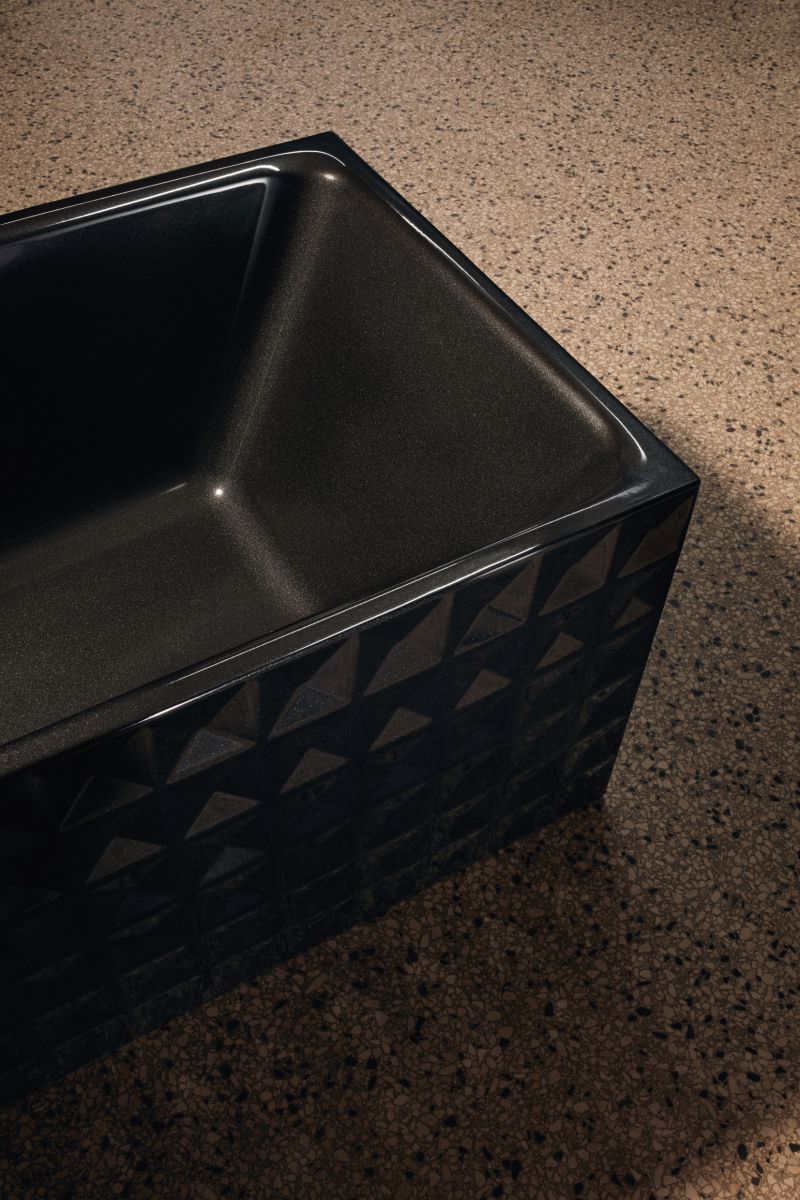 BetteLoft Ornament Midnight Bath

Both have a beautiful metallic, shimmering effect to add colour and glamour to your bathroom. We love that these can be added to either a toned-down scheme or to add even more colour for dazzling effect.

But Bette hasn't stopped at just these beauties for its colour offering - consumers can choose from hundreds of different colours, including 22 exclusive matt colours that are designed to coordinate with popular stone finishes and tiles - so your shower tray can now coordinate with your bathroom flooring, and you can also choose these colours for baths and basins.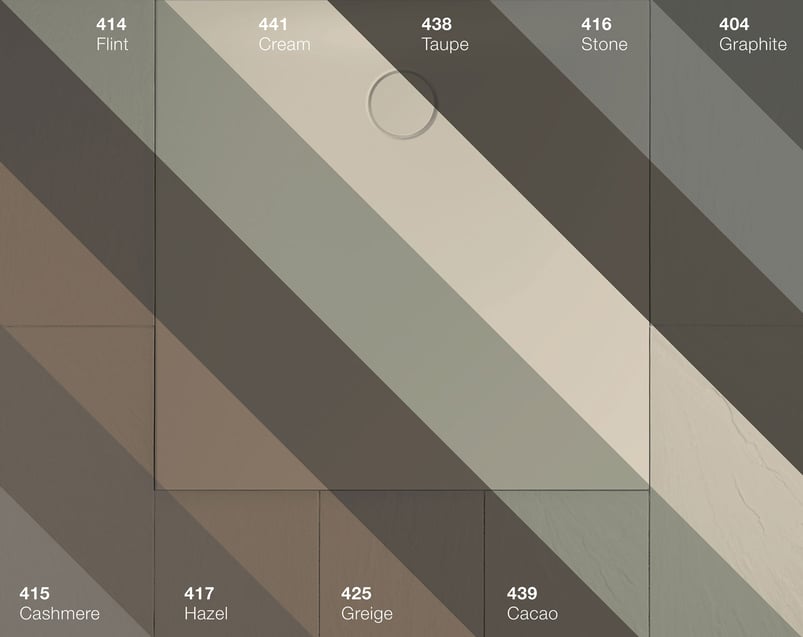 Bette Exclusive Colour Palette

For this exclusive colour palette, Bette has picked up on the 2018 trend for earthy colours with gorgeous hues ranging from the timeless 'Cashmere' through to 'Graphite' grey.

And not only can they do colourful baths, but there is an option to have the outside of the bath in a colour and the inside white (as shown below) for a truly unique look.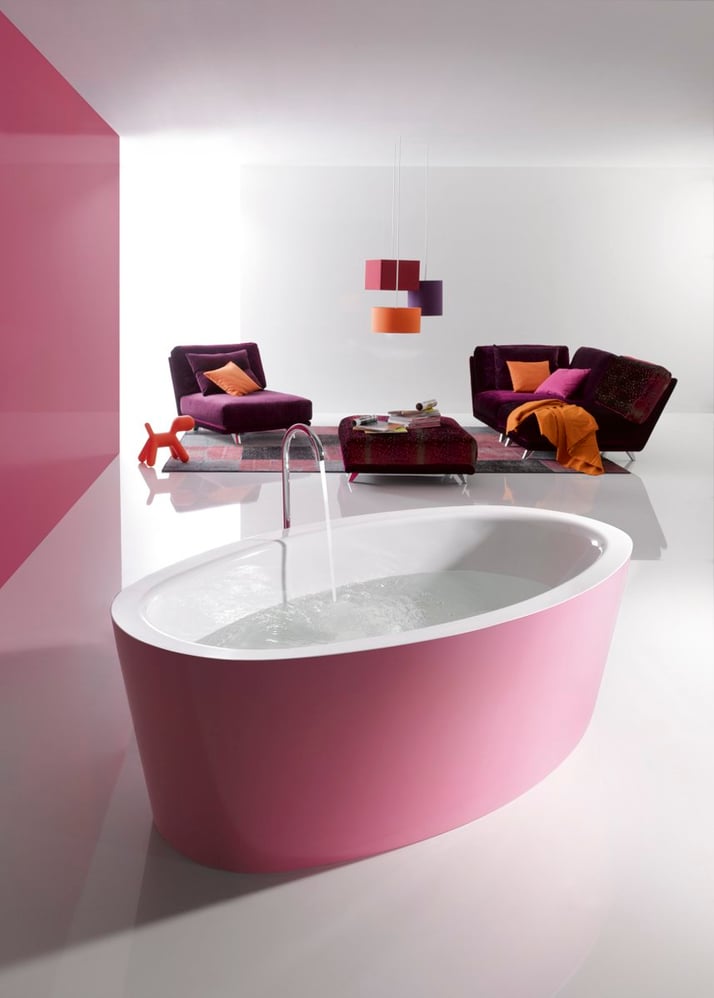 BetteHome Oval Silhouette Bicolour Violett

Bette is definitely pushing the boundaries of what can be achieved and this is particularly evident in their concept bath. As all of Bette's products are made from glazed titanium steel they can produce colour effects like the striped bath below – it's not for sale as it's just a concept, but we're keeping our fingers crossed that they will release them one day.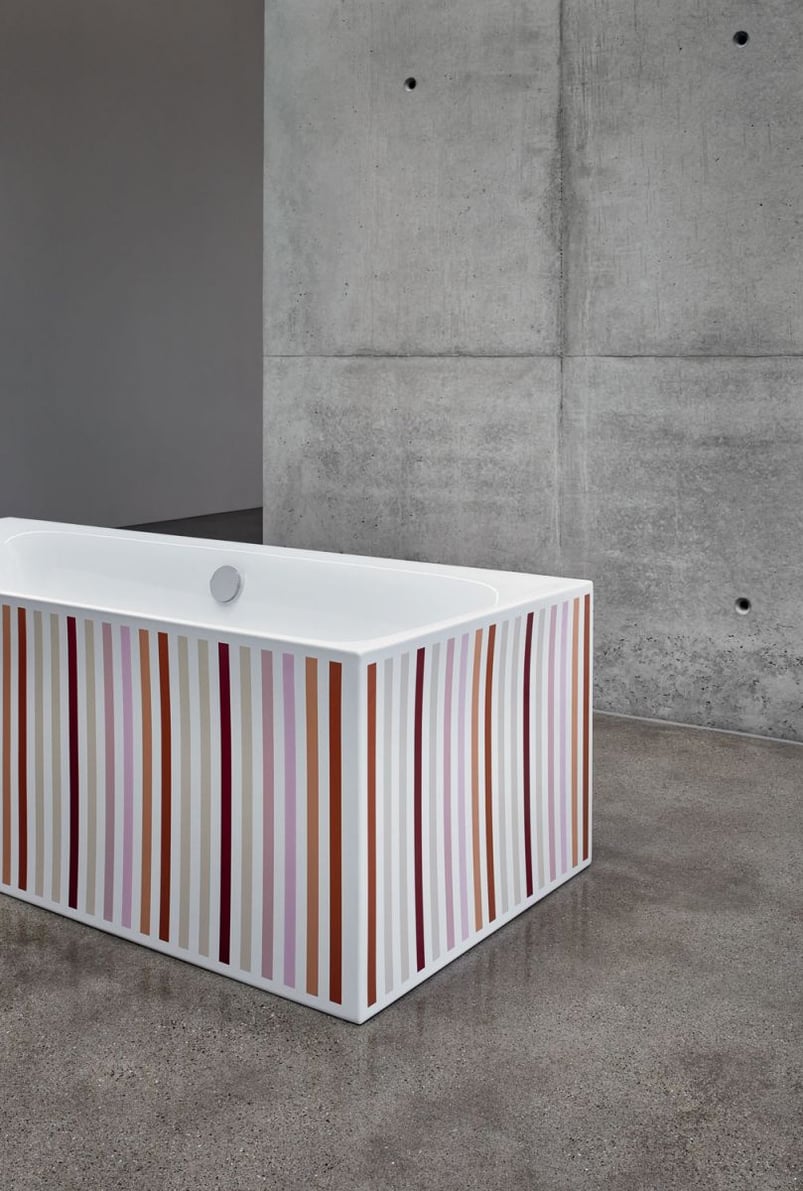 The Bette design concept Deco

Another of our favourite brands who are embracing colour is JT Ellis. Their new '1891 Collection' of real wood furniture is available in 30 colourways. And just listen to the colour names - Admiral, Tuscan Yellow, Passion Pink, Spring Green and Faded Pumpkin – so evocative, we'd like one in every colour.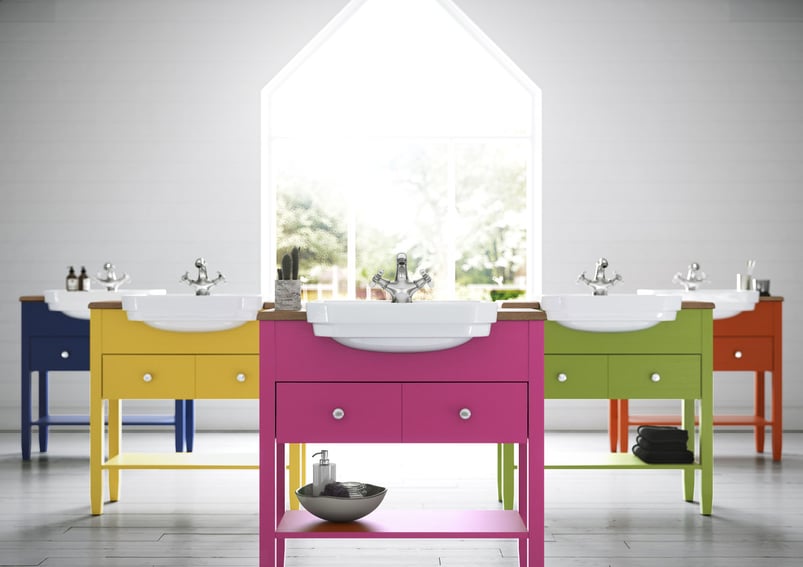 Colourful washstands by JT Ellis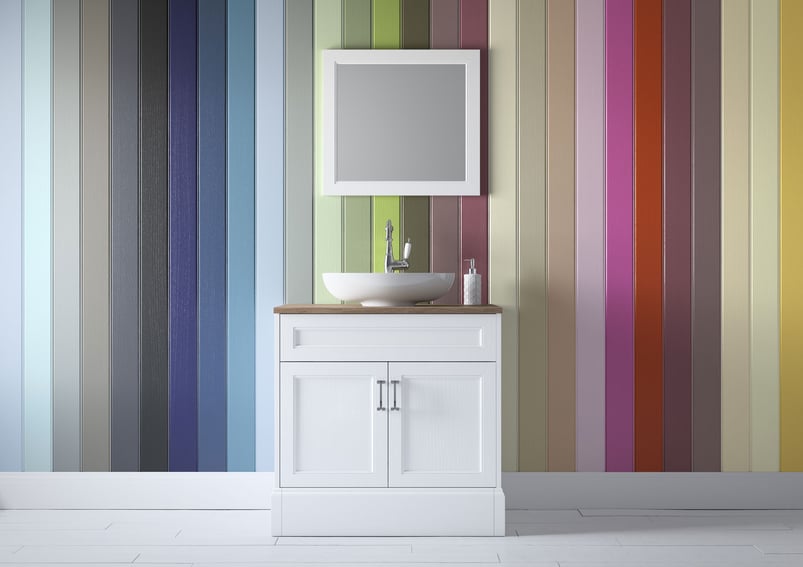 Colours by JT Ellis

We love this fun shot showing what an extensive colour offering they have.

Next up on our list for colour, is BC Designs who have been offering painted baths for a while. Many of us may think that we'll just paint the bath ourselves but BC Designs' finish is second to none, with their service being chosen for many luxury hotel projects, including The Malabar Hotel in the Yorkshire Dales. Who could not be inspired by the thought of relaxing in a sunny yellow boat bath after a hard day's work?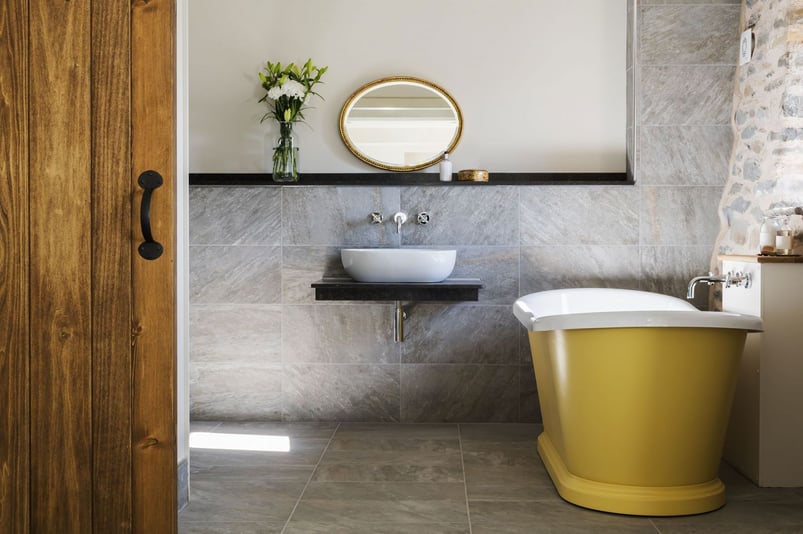 BC Designs Boat Bath

Our next brand is Bisque, who have been leaders of unique radiators and one of our go-to brands when we are designing bathrooms with wow factor. Their radiators are grouped into collections – Bright Colours, Vintage Colours and Iridescent Finishes, but new for 2018 (and we are very excited about this) is a rose copper finish, which would definitely be a standout feature in your bathroom.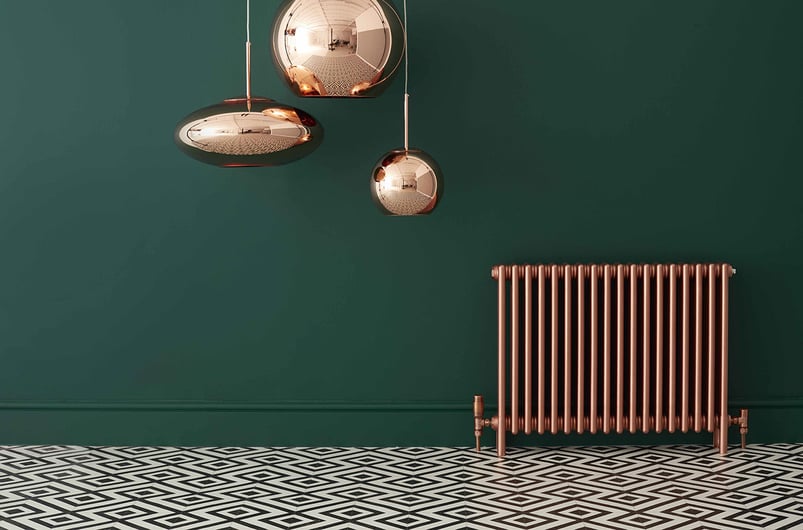 Bisque Classic Radiator in Rose Copper

And lastly, but certainly not leastly, is Arte Form who have turned tapware design into, well, an art form. With the industrial trend showing no sign of abating, we are currently swooning over their Matt Black range. Use them with touches of colour elsewhere and they will give your bathroom an on-trend look which will also last the test of time.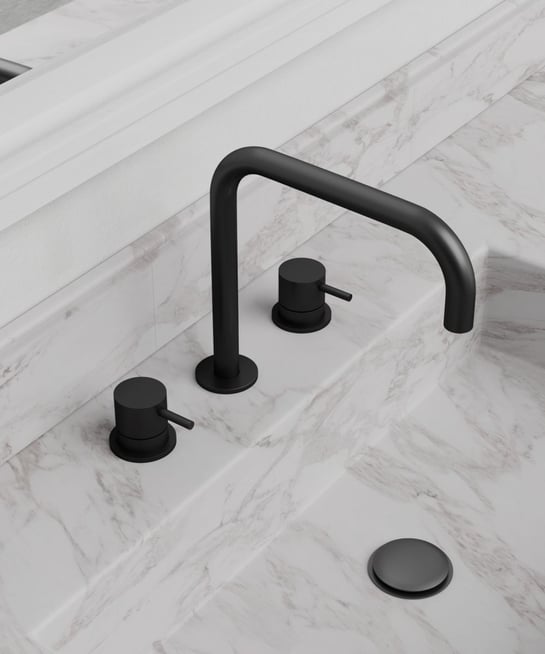 Flow Nero Basin 3 Hole Deck Mixer by Arte Form

So ends our tour of the most colourful bathroom brands on the market. The growing popularity of this trend reminds us that bathrooms are not just functional rooms anymore, they are viewed as any other room in the home is – a space to unwind and relax. They therefore definitely deserve to be given careful design thought so they can be a true reflection of you.