A bathroom fit for a Parisian palace
by Tamsin Allen, on Feb 20, 2018 1:10:00 PM
Sometimes we yearn for the glamorous days of old, when movie-star women poured themselves into elegant dresses and men smoked cigars in tuxedos. Those days are back, somewhat, with the sumptuous restoration of L'Hôtel. And at the heart of this renovation, Maison Volevatch's Bistrot collection is perfectly at home amongst all the opulence. Read on to find out more about this glamorous project.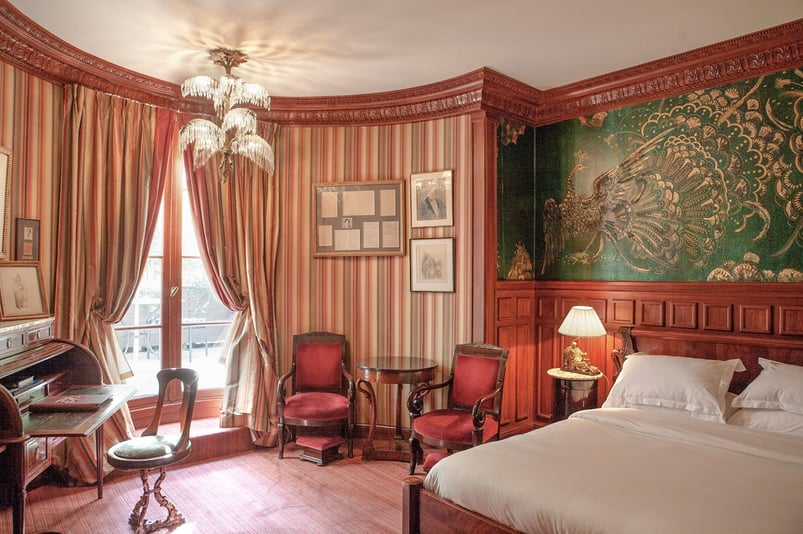 Project Brief:
A typical hotel built in 1828 on the left bank of Paris, this five star iconic 20 room Palace is the smallest of its kind. Located a few steps away from the noise and hustles of Saint-Germain-des-Prés, it has always been the hidden hideaway for prestigious guests and artists - Marlon Brando, Princess Grace Kelly, Jorge Luis Borges, Salvador Dali, Frank Sinatra, Elizabeth Taylor - among many others - once resided here.

The hotel's reputation through time oscillates between the place to be and the one that allows you to live in total discretion, while being immersed in a glamorous and charming environment. Very 'Parisian' and a terribly romantic place, Serge Gainsbourg composed his album 'Melody Nelson' here with Jane Birkin. With a strong personality - each room being individually decorated and inspired by famous visitors - acclaimed designer Jacques Garcia has recently revisited and renovated the Hotel, bringing it to its previous splendours, embodying a vintage look mixed with French glamour.

Maison Volevatch had the immense privilege to dress up the most desired suite' bathroom of one of its most illustrious residents, Oscar Wilde.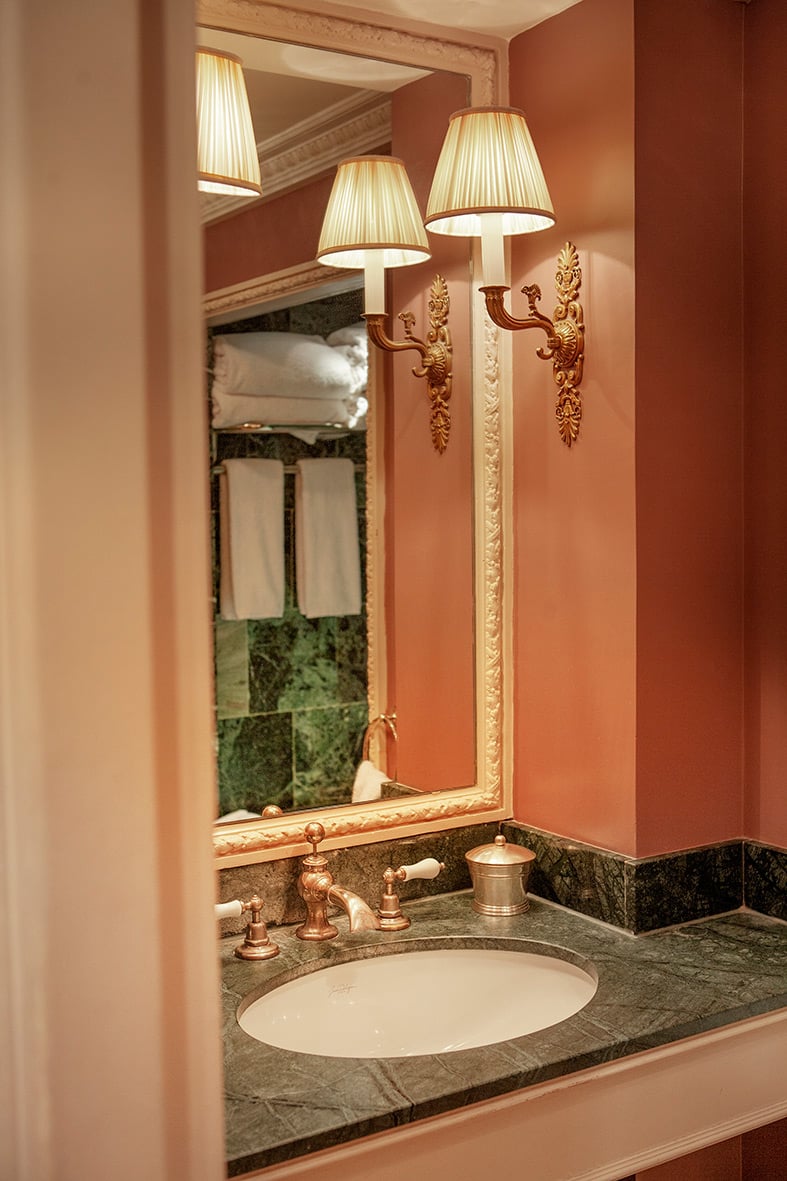 Best / Key feature:
Without doubt, the undeniable charm and splendour that designer Jacques Garcia has given to this complete renovation in elevating once more the Hotel to a Palace and for a few aesthetes to enjoy. The stairs are certainly the centrepiece, opening to the sky and distributing the natural lights all over. Our eyes then turn to the frescoes and mouldings, and all those little luxurious details we glance at each corner, in the lobby are displayed original artworks of Jean Cocteau, the floor houses a leopard print carpet, here and there antique furniture, gold chandeliers, striped wallpaper… all bringing that luxurious decadence we love so much.

It is an architectural signature of such magnitude and yet both intimate and timeless that we breathe at each of our steps. Once you enter the Oscar Wilde bathroom, you are submerged by the emerald colour of the marble tiles and to match the retro style of this incredible space, Maison Volevatch's Bistrot collection has simply found its natural habitat. Jump in the bath and Saint-Germain-des-Prés is again far away….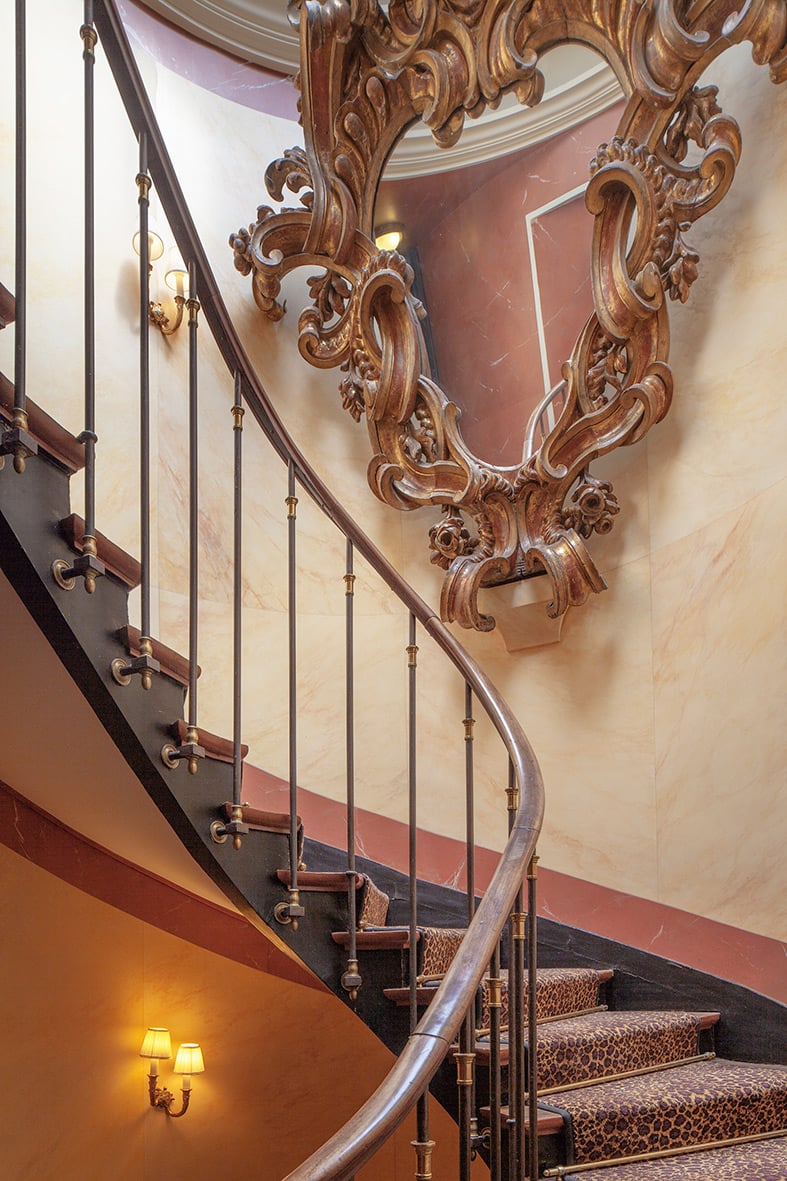 Products:
Bistrot exposed Shower System with thermostatic valve, tub spout and handshower on cradle : B/X6-X2-00
Carpe Deck mounted Spout : C/RP-K1-00
Bistrot Deck mounted shut-off Valve left-hand closing with Ceramic Handle : B/RP-00-P4
Bistrot Towel Ring: B/SE-16-0A
Bistrot Grab Bath Rail: B/SE-25-1A
All articles in Shiny Nickel color finish.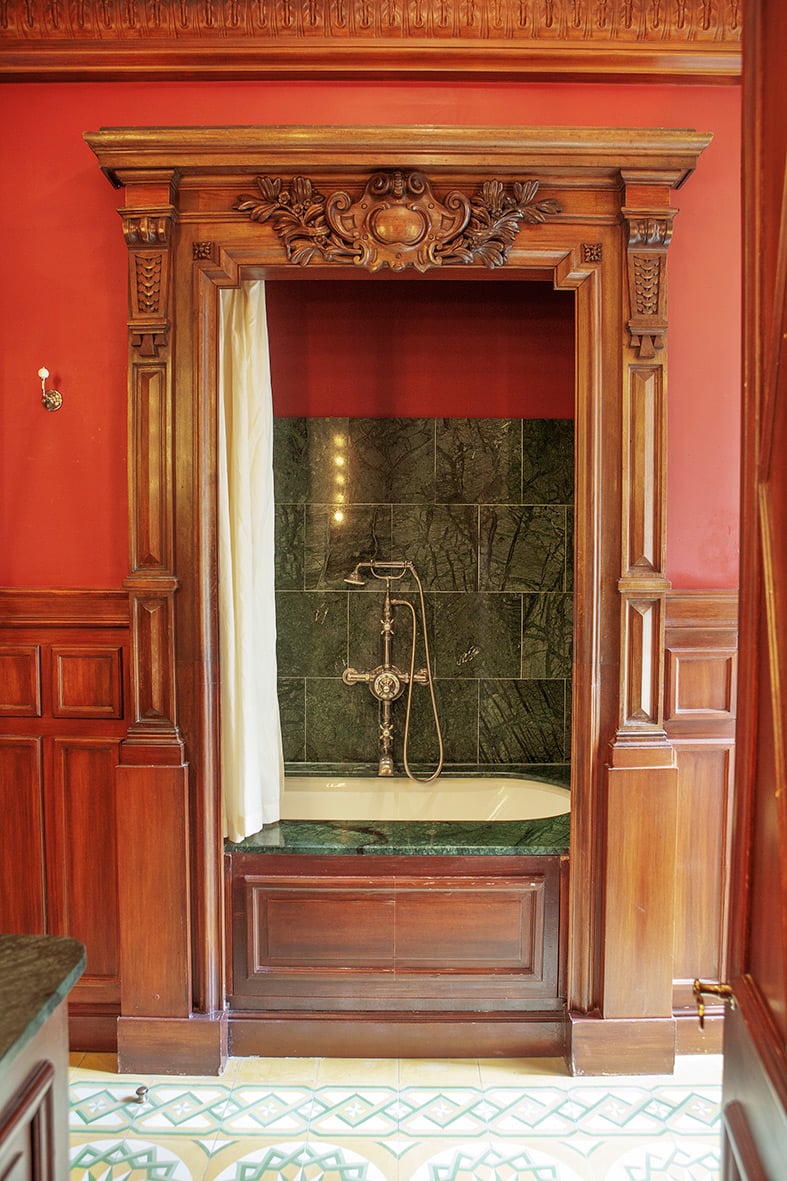 Foam & Bubbles Expert Verdict:
Oh how this hotel makes my heart soar. I'm so glad that maximalism is making a return – these opulent surroundings make me want to dress up and spend an elegant evening here. The designer has done a wonderful job in balancing all the traditional splendour with modern luxuries and Volevatch was certainly the right choice of bathroom fitting to suit this environment.