Creating a bathroom for children
by Tamsin Allen, on Feb 13, 2018 3:10:00 PM
Whether you are lucky enough to have the space to create a dedicated bathroom for children or making your main bathroom more child-friendly, here are some tips to bear in mind when in the planning stage.


Use colour to create a fun environment
Although the rest of this bathroom is very cool and contemporary, the addition of the two red step stools adds fun as well as function. It's difficult for little ones to reach taps, so step stools give them a much-needed boost. They are also handy for parents to sit on at bathtime.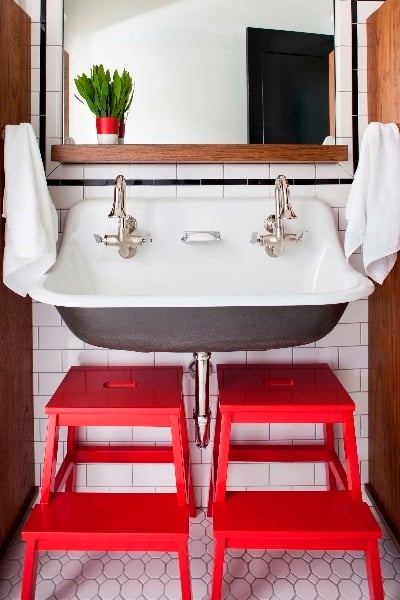 Install good quality mixer taps
Mixer taps are great because you don't have to worry (so much) about little hands getting scalded with hot water. Also remember that children are not as careful as adults and tend to use taps with more enthusiasm than we would. So your taps need to be robust and be able to take a bit of a battering.; it is therefore wise to choose the best quality taps your budget will allow.

Some of our favourite taps are by
Hansgrohe
, mainly because they are available in a wide variety of price points and styles. And they are so confident in their manufacturing quality that they offer a guarantee valid for five years from the purchase date by the primary customer, and for a maximum of six years from the date of manufacture.
A child-friendly bathroom can still be stylish
This bathroom is a great example of finding the right balance between stylish enough for adults, fun for children and practical for both. What we love here are the cabinets and walls in contemporary grey but well-balanced by fun floor tiles and the blue bath. The double basin cabinet is also fantastic for that
morning rush and provides lots of much needed storage (to pack away all those rubber duckies and bath stickers of course).



Child-friendly bathing areas
Safety always comes first in the bathroom and one of the most dangerous areas is the slippery bath. Many baths now have non-slip bases to make getting in and out of the bath easier. This is also key if installing a shower in the bath, for parents and older children, to prevent slipping when standing up.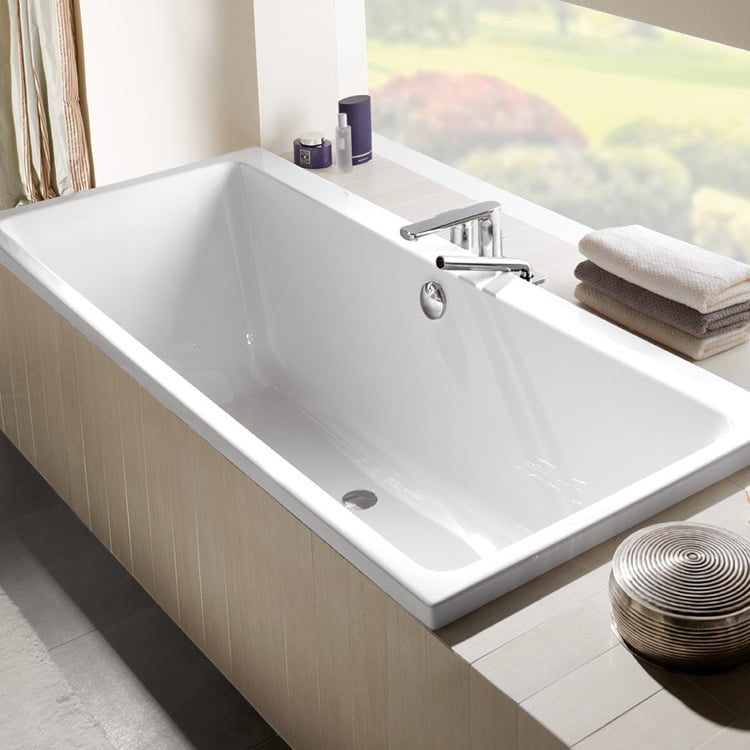 The
Villeroy And Boch Subway Rectangular Bath
is an elegantly simple bath tub, available in a number of sizes, working perfectly in many different bathroom styles. Panel around it in tongue and groove for a country look or tile around for a modern feel. It's constructed from robust acrylic, which radiates heat evenly. Its non-slip action and sensibly angled slope gives back support as well as preventing splashing when entering or leaving. It is supplied without tapholes so install with your freestanding or wall-mounted taps in the centre to give more bathing room and avoid all those 'not me at the tap-end' arguments.
Overall, remember they won't be little forever. Avoid hanging basins lower, smaller toilets or pink princess-styled tiles. Instead incorporate some of the ideas we've shown here and your bathroom will transition easily through the years without further expense. The same applies to a family bathroom – it may be tempting to make it a really fun environment but you don't want to have to completely start again when it's not cool enough for your teenager or when they've left home altogether. Contemplating a renovation in the near future? Why not try our Find a
Showroom
or
Fitter
features to search for 3 highly-recommended local suppliers.