For the ideal showering experience, choose GROHE's SmartControl combi shower system
by Lucy Searle, on Feb 19, 2018 4:15:00 PM
Grohe's SmartControl range is all about choice so that you can create your own, personal showering experience – and design your shower room, wet room or bathroom exactly as you'd like it to be.
In a nutshell, what does the SmartControl range do?
Just push the button to choose your preferred shower spray and enjoy. Switch between a refreshing GROHE PureRain/Rain O2 spray, the new TrioMassage spray to massage your head and shoulders, or simply use the Power & Soul hand shower. You can even use two sprays at the same time by activating both buttons.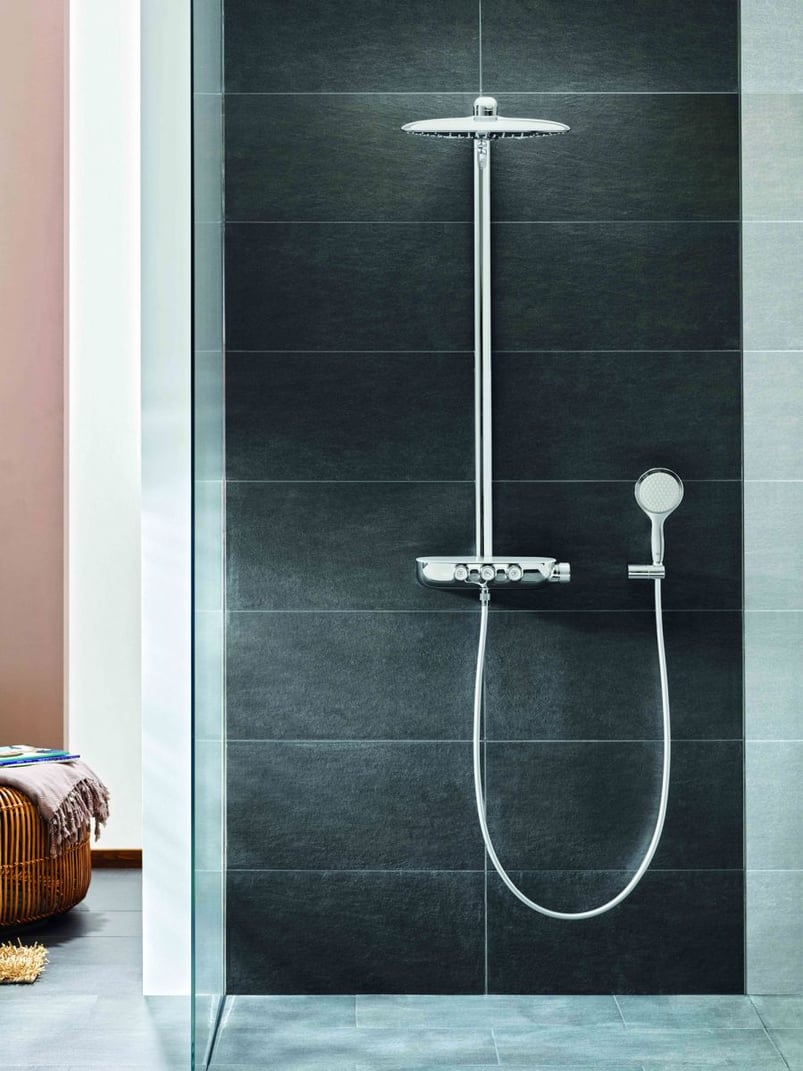 Flexible showering experiences
The thermostatic shower valve can be combined with an overhead shower and hand shower, which means you have not just choice when it comes to showering, but also the opportunity to turn your bath into a shower – perfect for family homes with just one bathroom that's limited on space.
The innovative SmartControl technology also offers spray selection and volume adjustment in one. Turn the ProGrip handle and alter the volume as you like – so you can opt for a quick, invigorating wake-up shower – or one that you can luxuriate and relax under. Operation is simple and easy for all the family - including children.
Better still, your preferred showering setting is stored – perfect if you want to pause the shower or for the next time you use it. Smooth and intuitive controls, operated directly from the main shower unit, mean operation is simple and easy for the entire family.

Shower safety
Grohe TurboStat® technology lies at the heart of this shower system. The thermo-element's unrivalled sensitivity means it delivers water at the desired temperature within a fraction of a second - and keeps it consistent for the duration of your shower. So, no more time and water wasted fiddling with the controls to get the temperature right.

Versatile design options
Grohe's SmartControl gives you freedom to position the thermostat either vertically under the shower head or away from the central axis, even on one of the side walls of the shower. Like the GROHE SmartControl Exposed, the 'excealed' solution is also available in Duo and Mono versions, and offers shelf space for shampoo and shower gel, making it ideal for storage-starved wet rooms and en suites.
The piping of the SmartControl shower system runs within the wall, connecting the SmartControl thermostat and the head shower. No shower rail means that cleaning is effortless, and the finished look of the room smart, contemporary and minimal.
SmartControl comes in two stylish finishes: classic chrome and, for a subtly elegant design statement, moon white acrylic glass.

Which shower head to choose?
The generously-proportioned Rainshower 360 head shower is an experience in and of itself. Features include the TrioMassage Spray – a combination of the renowned GROHE Bokoma Spray and two GROHE Massage sprays, giving you a head and shoulder massage in one combined spray; the PureRain/Rain O² spray as pre-set function; the Starlight chrome spray plate, which is resistant to soiling and tarnishing; improved SpeedClean nozzles; and the EasyClean removable spray plate.

Find out more about Grohe's SmartControl Combi Shower System