Get precision control for a relaxed showering experience with GROHE's thermostat collection
by Lucy Searle, on Feb 19, 2018 4:04:00 PM
Thermostats are often given the least consideration when we shop for our new bathroom, shower room or wet room – but they are a vital piece of bathroom kit. Their most important features? Precision control and good looks. Grohe's collection fits the bill on all counts.

Why GROHE's thermostats?
Grohe boasts of using the most sensitive thermometer known as a gauge when constructing their thermostats: namely, our skin. And they're certainly up to the job, ensuring that hot and cold water touch us in exactly the proportions we desire, thanks to Grohe TurboStat®, a revolutionary technical feature that provides the correct shower temperature in seconds and keeps it constant.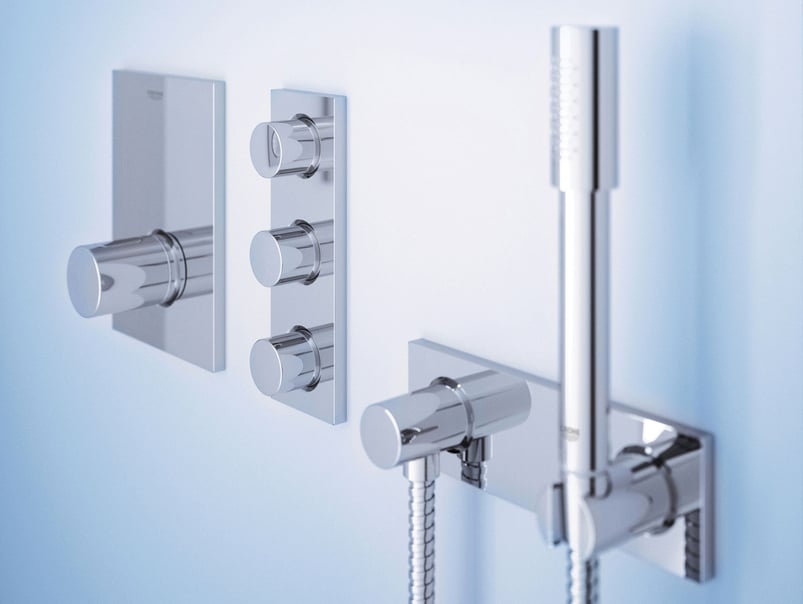 Which thermostat to choose?
The many elegant design features in these miniature technological marvels are wonderfully innovative – browse the range to find one that suits your showering preferences, your budget and your shower package.

Grohtherm SmartControl Concealed, with its concealed installation and exceedingly slim design, offers more space under the shower without compromising on functionality or comfort.

Avensys Modern is wall-mounted, scratch-resistant, easy to clean and suitable for both high and low water pressures.

Grohtherm F responds within a fraction of a second to any changes in the incoming water supply.

Grohtherm Cube sets a new standard in 100% square design, creating cutting-edge, geometric styling at an affordable price.

Grohtherm 3000 Cosmopolitan is enhanced by Grohe StarLight chrome – a deep, luxurious finish, which resists soiling and tarnishing. The EcoButton enables you to reduce your water consumption by 50%, too.

Grohtherm 2000 thermostats provide functional excellence in a timeless, elegant design.

Grohtherm 1000 Cosmopolitan M is Grohe's most compact thermostat; its slender design is the preferred choice for modern, architectural-style spaces.

Grohtherm 1000 has the new Grohe CoolTouch slim body, ergonomically-shaped metal handles, Grohe TurboStat technology and water-saving eco functions.

Grotherm 800 brings you the benefits of a thermostatically controlled shower at an attractive price. Its SafeStop button, set at 38ºC, prevents children from turning up the temperature, while the EcoButton reduces water usage.

Grohtherm Micro provides effective thermostatic protection, particularly on wash basins, either by limiting the maximum hot water temperature to a safe value or by pre-mixing the water for supply from a tap without a mixing device. Easy to install under a wash basin, it ensures that the desired water temperature remains constant, even in the event of pressure fluctuations.

Save water and energy, too
It's all very well us telling you that Grohe's EcoButton and Turbostat feature helps you save water and energy – but what does that really mean in terms of hard cash? Well, you can easily work out the annual costs and energy savings by using the thermostat calculator.

Want an idea of cost savings in a hurry? Here's an example for a family of four, each showering for eight minutes per day: the basic charge for gas per kWh is around 6p; for electricity, it is 24p; and for oil, 66p; with the water price per cubic metre around £4.84. That puts energy costs per year for a two handle mixer at £252.81 and water costs at £637.16. For a single lever mixer, you could save around £46.84 off that bill. Use a Grohe thermostat, and your savings per year would amount to a whopping £416.63.

Want to see more?
Find out more about Grohe's thermostat collection here

See Grohe's thermostatic shower collection here

Browse Grohe's thermostatic bath/shower mixers here