Give me my weekend back! Time saving tips for showroom shopping
by Tamsin Allen, on Feb 20, 2018 12:21:00 PM
We've all been there – schlepping from bathroom showroom to bathroom showroom, using up much-needed hours on the weekend, and still not finding what we need. If you are not prepared with the right questions to ask, or the showrooms don't stock the type of brands you want, you can end up wasting a lot of your valuable downtime. That's why we've got some top tips for you, to minimise the downsides of visiting showrooms and maximise the many upsides.
Know your renovation
The first step to sourcing the right products, is to know what you need for your bathroom renovation. Are you creating a totally new bathroom or just sprucing up an existing one? This will determine whether you need design or installation help (or DIY advice) and what sort of retailers you need to visit, like a full-fitted showroom or a plumbers' merchant.
What is your budget?
You may not know your exact budget, but it's worth having a ballpark idea to keep conversations focussed and stop them spiralling out of control. Have a realistic idea of your ideal spend, maximum budget and consider the value you can add to your property. Knowing this will allow you to really splash out on the key furnishings and fittings that make all the difference and allow you to cut back on other areas.
Find your style
Use inspiration sites (like ours!) to get an idea of what style you are after. This will be key (along with your budget) for deciding what products are right for you when you begin speaking to designers and showroom reps. Once you have found the style you love, you can then research what styles and brands are at different showrooms – for example you can call a few and make sure they supply or display your favourite brands, saving you a wealth of time.
Bear in mind that not all showrooms stock all brands, so without doing your research they may try to sell you an alternative brand, which may not be the best for you. Use our
showroom finder
to filter by the brands you love and find your nearest retailer.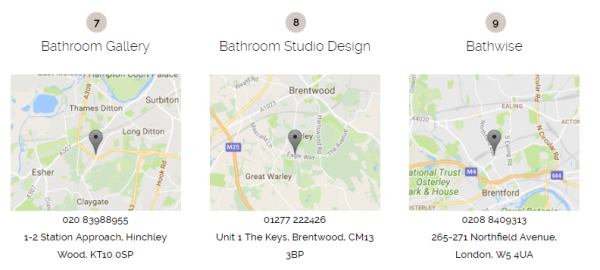 Find the brands you love with Foam & Bubbles' showroom finder


Research the showrooms
There is a wealth of information now on most businesses and you can check out reviews, see images, and maybe even take a virtual tour of different showrooms before visiting. If you go that extra mile to find the right showroom, there won't be any surprises when you get there. Bear in mind the nearest showroom might not be right for you so you can save time in the long run by visiting the best showroom, even if it is a little further away.


Example Virtual Tour C.P. Hart Waterloo Showroom (scroll & click to move)

What to ask when you are there
One of the most important things to check when you're at the showroom, is what the availability and delivery times of all your products are. There's nothing worse than ordering everything (and feeling really pleased with yourself) only to find that they will take ages to arrive (or arrive at different times) which will hold up your building works and make scheduling tradesmen very difficult.
If products aren't available when you need them then you'll have to start all over again so make sure to ask the question early to prevent headaches later.

Learn to negotiate
Whatever the stated price, there is almost always a 'better' price, so back up any quote with alternative quotes, either from other showrooms or online. Most showrooms are willing to give a discount when you are buying a few items from them, so it is always worth asking.
You are more likely to get a better deal if you come prepared, know your budgets and have an idea of retail prices. If you can make things quicker and straightforward for a showroom, they will reward your preparation with reasonable discounting.

Read the fine print
Make sure you are clear on what refund policies are being offered. The last thing you want is to be stuck with a bath that isn't quite right because you have missed the time for returning items or it's too expensive to return it.
The bottom line is that the more time you put in to researching what you need beforehand, the less time you will waste visiting endless showrooms. And that can't be bad in our busy, modern lives.