GROHE is all about the Pure Joy of Water, delivering sustainability and quality in each and every product
by Hayley Gilbert, on Feb 19, 2018 12:05:00 PM
Global brand Grohe knows exactly what it's talking about when it comes to innovations in brassware, sanitaryware, fixtures and fittings. With core values of technology, design, quality and sustainability, you can be sure that when you purchase a Grohe product, you're getting the very best that money can buy. Grohe's key aim is to deliver "Pure Freude an Wasser" or "Pure Joy of Water" and it's this ethos that has led to more than 240 design and innovation awards over the past 10 years and an ongoing relationship with some of the world's leading designers, architects and developers.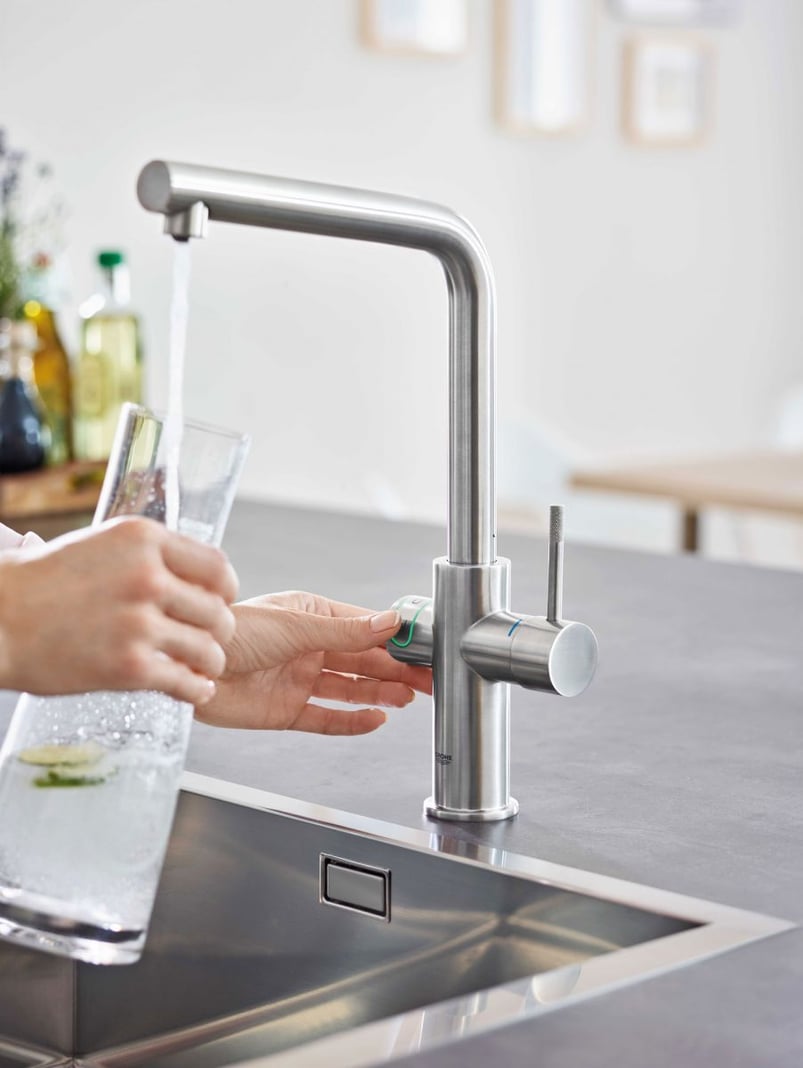 Technology
Grohe's four core values perfectly illustrate the company's dedication to making our lives simpler and more joyful each and every time we step into the shower or turn on a tap. Its team is known as Masters of Technology within the industry thanks to their award-winning designs, which are packed with cutting-edge technology and the very latest innovations. It's this perfect blend of timeless design with state-of-the-art technology that makes Grohe so unique and that's why, as homeowners, we specify the brand for everything from makeovers and room revamps to total home renovations.

Design
While other manufacturers may rest on their design laurels, at Grohe, design is more than just achieving an appealing aesthetic. Other brands' products may lose their sheen after a few months of use but with quality designs from Grohe, you can be sure of getting that Pure Joy of Water each and every day. This is because the brand is an expert at combining form with function – each element is beautifully balanced to produce the most exquisite taps, thermostats and showers. Testament to this is the 27 red dot awards the company has won, and that's no mean feat.

Quality
From ease of use to a luxury look, each and every Grohe product has quality at its core. Every component is rigorously tested to the toughest standards so you can be sure that when it comes to installing your new mixer or shower fitting, you're getting the absolute peak of perfection. It may surprise you to know that actually, each item is tested for 20 years' of daily use before it leaves the factory, with hard water no less. Innovations such as SilkMove® technology for smooth operation in single-lever mixers is just one example of where quality is consistently at the forefront of Grohe's thinking.

Sustainability
A buzzword in interiors and product design, sustainability lies at the heart of the Grohe ethos. Save water, save energy – this not only helps our environment but it will also add to our Pure Joy of Water. No more wasteful water use; today's consumers are more clued up than ever on how to conserve this precious resource. Look to the Grohe EcoJoy™ technology on its bathroom fittings and showers, which saves up to 68% of water, or the Grohe Red® boiling water tap, which allows you to only use what you need, when you need it. No more kettles and no more plastic bottles either thanks to Grohe Blue®, which produces cool, still or sparkling drinking water at the touch of a button.

For the purest form of pleasure, think Pure Joy of Water – eco-friendly innovations that help us to create a better, more caring environment whilst still fulfilling all the demands of family life.