How to design a small bathroom
by Sarah Warwick, on Feb 7, 2018 12:45:00 PM
Your bathroom needn't be short on space to take advantage of the latest space-saving sanitaryware. Choosing a few petite pieces might create enough room for a statement basin or a luxurious shower and bath, or simply give your room a more spacious feel. So before you select standard sizes, take a moment to consider whether they really are the perfect fit.

Toilets and bidets
With the small cisterns on today's low-flush toilets, you can find short-projection close-coupled toilets at around 600mm deep. Mood Bathrooms Thyme WC measures just 570mm in depth.
For a narrow toilet, check out Tavistock's Micra WC (340mm wide, 600mm depth).
A corner toilet can enable you to create an en-suite or compact cloakroom in the tightest of spaces. Many manufacturers offer corner toilets including Aston Matthews (Ergo), Ideal Standard (Concept Space), Vitra (Layton), Kohler (Reach) and RAK Ceramics (Evolution).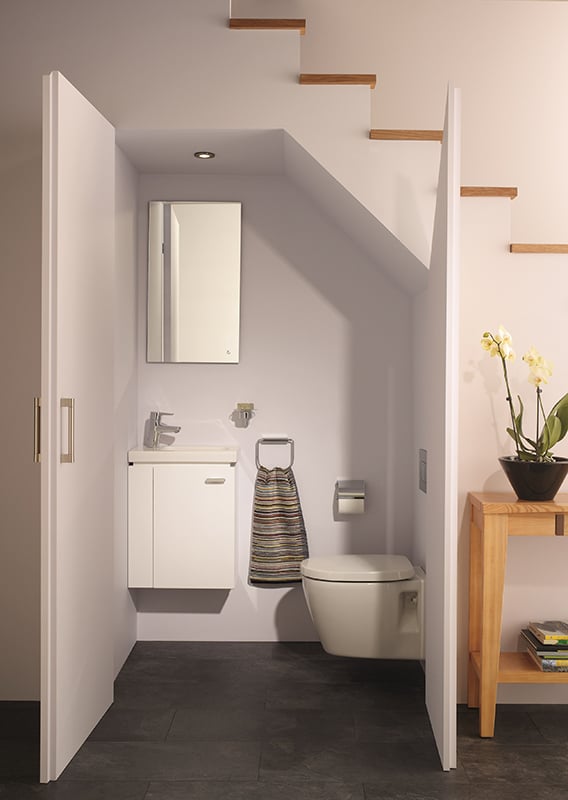 Ideal Standard's Concept Space collection includes a variety of bathroom furniture and sanitaryware all designed to save precious centimeters

If you're looking for a small toilet, consider a toilet with a built-in cistern, such as the Saniflo SANICOMPACT, with widths from 360mm and depths from 430mm. Roca also offers in-tank WCs in its Meridian-N collection (400mm wide, 595mm depth).
Concealed cisterns hidden in the wall behind the toilet can also help to save space. Look at Geberit's 80mm deep Duofix WC frame; Geberit also offers corner cistern frames.

There's no need to have a separate bidet thanks to the latest bidet-toilet combos, such as Geberit's AquaClean Sela, Villeroy & Boch's VICLEAN or the Washlet models offered by TOTO. Duravit also offers the SENSOWASH shower-toilet seat.


Geberit's AquaClean Sela has both toilet and bidet functions

Style-wise, wall-hung sanitaryware makes a room feel bigger because the whole floor is visible.

Washbasins
While larger basins tend to mean less splashes on the floor and give the option of face-washing, sometimes a hand-rinse basin is a must. Depending on how little space is available, consider a corner basin, a round countertop bowl basin, a slimline basin, or a short-projection basin such as Twyford's Barbican (150mm deep). Asymmetric or offset basins might also enable you to maximise the size of your basin in an awkwardly shaped bathroom.

Ideal for tiny cloakrooms, a toilet-and-basin-in-one offers space as well as water savings, because waste water from hand-rinsing is used to fill the cistern. Check out Roca's W+W and the Caroma Profile 5 by Sanlamere.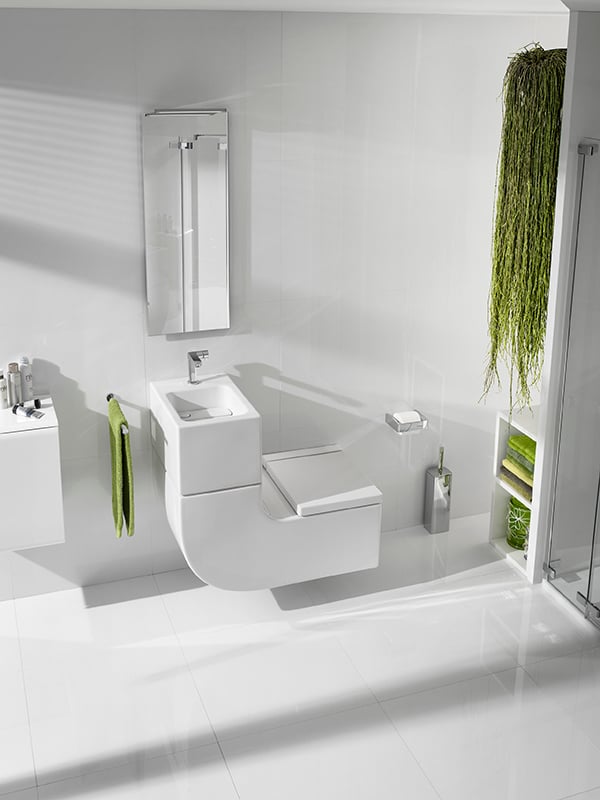 Roca's striking W+W integrated WC and basin takes up less room than standalone pieces and saves water too

Small basins with vanity units below or within fitted furniture with storage are a good use of space.

Bathtubs and showers
Choose a shapely shower-bath to give both a roomy shower enclosure and bath, or if it suits your lifestyle, swap the bath for a generously sized shower cubicle.
If you're looking for a small traditional bathtub, check out The Albion Bath Company's Trident rolltop, from 1520mm x 690mm, or its Tubby bathtubs, with lengths from 1200mm but depths enough to submerge yourself in for a luxurious soak. For small modern baths, Bette has several from 105mm long.

While there are shower trays available from 610mm square, they don't allow a lot of elbow room, let alone space to towel off or bend down to pick up the shampoo! Instead look into the different shower tray shapes available – pentagon, rectangle, trapezium, corner, quadrant, P-shape, D-shape and offset varieties – there may be footprint that suits your bathroom design and enables a more luxurious showering experience.

Likewise enclosures offer a variety of space-saving shower doors, such as bi-fold, tri-fold, in-swing, pivot and sliding, to suit bathrooms that lack space to open a standard hinged door into the room. Duravit's OpenSpace B and Novellini's Young 2.0 shower enclosures have glass screens that fold back against the walls after use, allowing the shower area to be part of the room.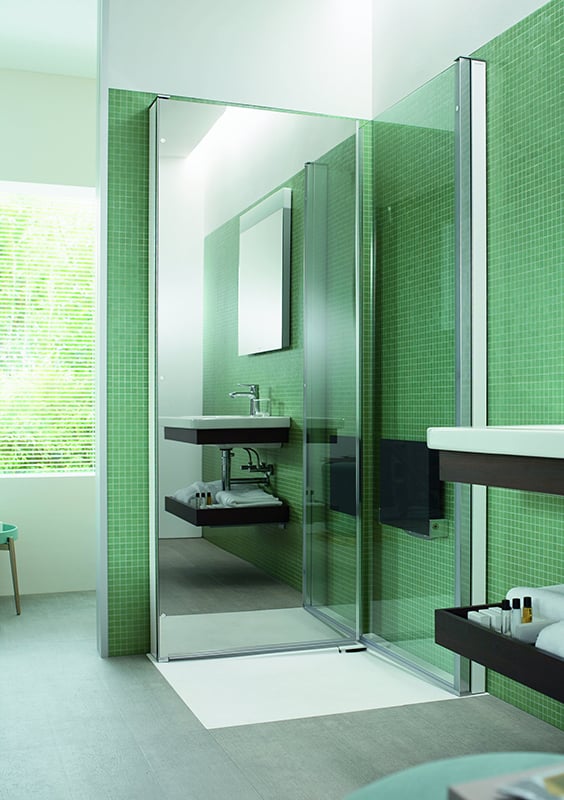 Duravit's OpenSpace B shower enclosures have glass screens that fold back against the walls after use, allowing the shower area to be part of the room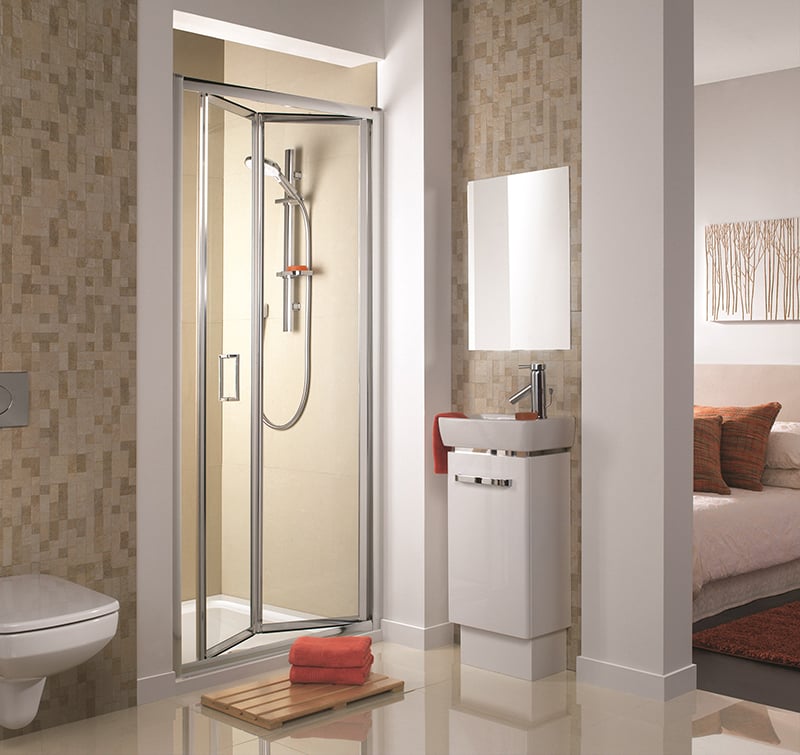 Twyford's Energy Collection es200 bi-fold door opens inwards to save space in the bathroom

If you choose a low-level shower tray in a colour that blends in with the floor, and select a minimal, frameless-style shower enclosure, it won't impose on the room as much and will aid a spacious feel.

Click here for small bathroom tile ideas