Laufen equips 270 bathrooms at the Mondrian Doha
by Tamsin Allen, on Feb 20, 2018 12:07:00 PM
What do you get when you combine two industry greats such as Laufen bathrooms and designer Marcel Wanders? The most incredible 5-star hotel design project in Qatar… read on to discover how this luxurious project was developed.

Laufen equips 270 bathrooms at the Mondrian Doha with pieces selected from the range of the standard products plus bespoke pieces designed by Marcel Wanders.

Perfectly representing the dynamic reality of bespoke projects, Laufen presents the latest of its impressive list of collaborations – Mondrian Doha and Marcel Wanders.

Facing the Persian Gulf, the colossal Falcon Tower is located in West Bay Lagoon in the city of Doha, capital of Qatar and contains luxurious spaces synonymous of a 5-star hotel designed by Marcel Wanders

Enclosed by a dramatic facade featuring architectural forms of Arabian origin yet reworked by SWA in a contemporary way, the glass and steel structure houses around 70'000 square metres of space, 24 floors, 270 panoramic rooms, including 59 suites. The interiors follow the same vision where Marcel Wanders sets out to blend local culture with a very modern, daring and sophisticated design aesthetic.

"Many themes are collectively layered throughout the hotel. Each space tells its own story and creates a multi-sensory experience of interpersonal, spatial and cultural connections", the Dutch designer explains.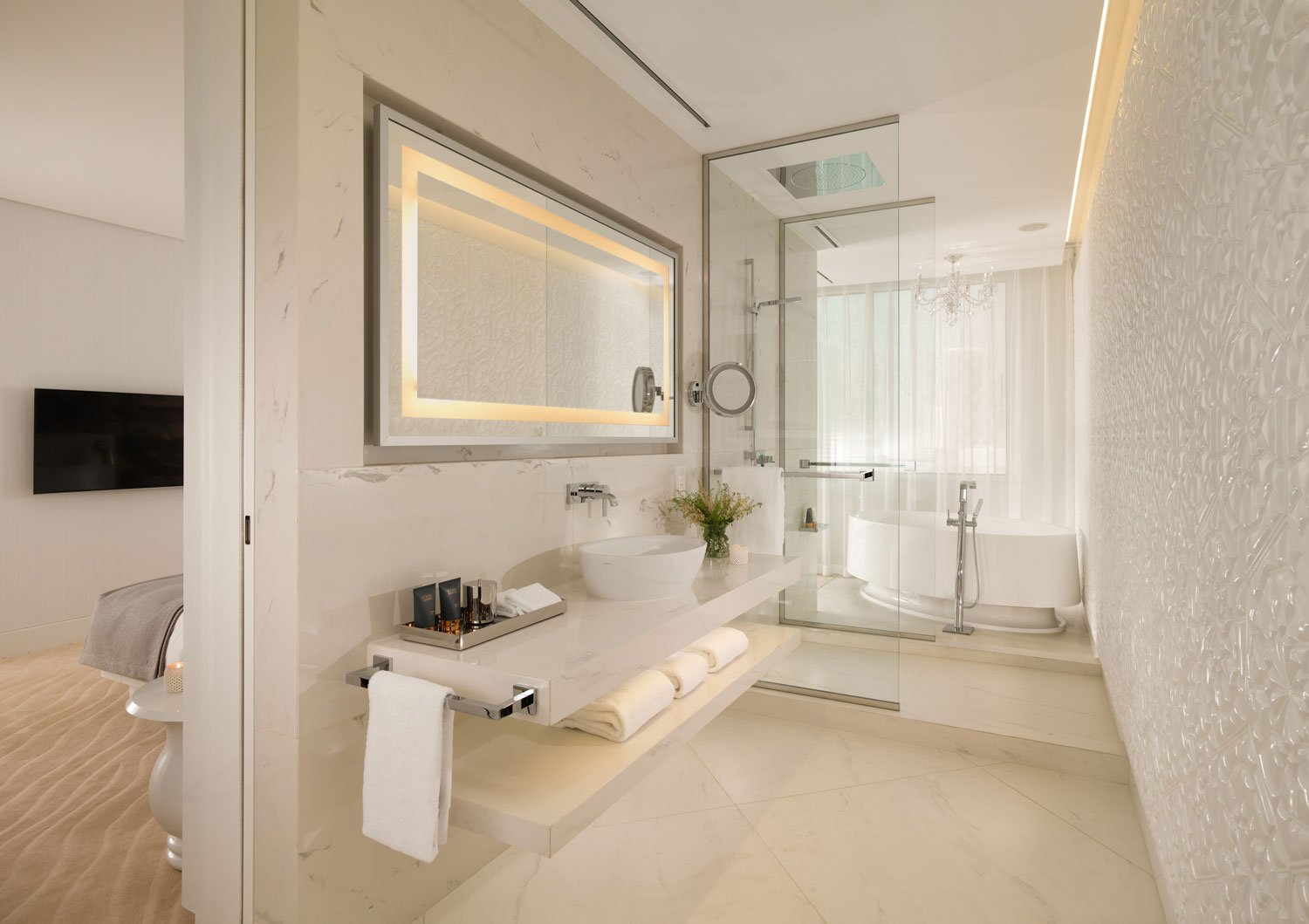 East and West join forces in this project, in which Laufen hascreated products of outstanding Swiss quality, applying sophisticated manufacturing know-how in the field of bathroom design, utilising techniques that have been passed down and perfected since 1892. 125 years of experience enable the company to take a 360-degree approach to custom projects, responding to any needs, whether a large-scale supply of products from a standard collection to the implementation of extensively customized and "site-specific" projects.

Even going as far as the reproduction of technically demanding historic items painstakingly created following a thorough process of in-depth research and production.

The R&D division, specifically formed for bespoke projects, guarantees a complete provision of services to achieve maximum results in terms of creativity, experimentation and cooperation.

In this case, Laufen has embraced the unique, timeless and iconic design of Marcel Wanders, who has created 12 different room types, all at the same absolute level of comfort. Laufen has supplied all the elements of the 270 bathrooms of the hotel while the toilets and washbasins have been selected from the range of standard products, respectively the bowls from the Laufen Pro series and the toilet from the Palomba Collection.

The spaces are entirely clad in white marble providing large, welcoming bathing environments, of refined decorative taste, offering the pleasure of rainfall showers or relaxation in the bathtub. Marcel Wanders designed a freestanding bathtub, sized to comfortably contain two people, conveying the sensation of a single block of sculpted marble that materializes from the floor. The tub forms a true zone of relaxation and regeneration, with a panoramic view and evocative lighting, opening directly onto the bedroom.

"Interior design and expertise combined in a project that aptly interprets my style, my requirements and creative vision. The pragmatic approach of Laufen and its drive to constantly evolve have permitted the company to move forward along the path of innovation, through in-depth cooperation with our studio, achieving very satisfying results for all concerned", Marcel Wanders comments.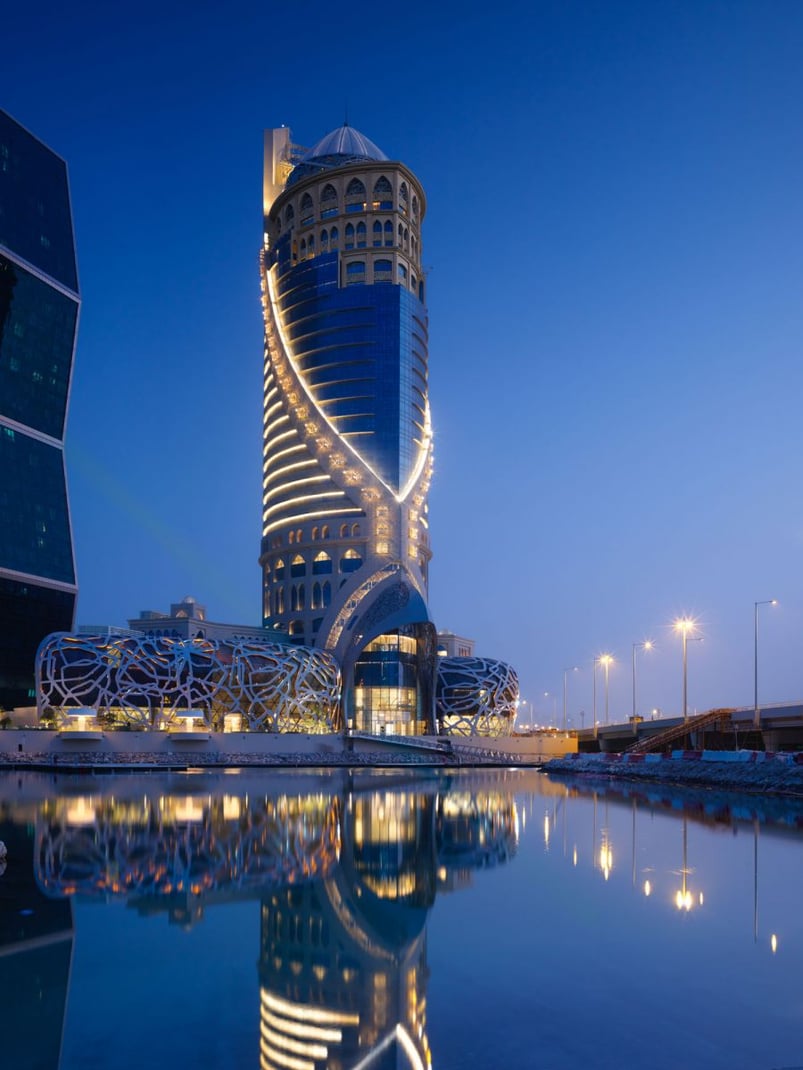 Foam & Bubbles expert verdict:
I have been a fan of Marcel Wanders' work for a long time and of course Laufen is one of my favourite bathroom companies; so a collaboration between the two is just amazing! And with their clean lines and timeless styling, superbly enhanced by the most luxe finishes and materials, the Mondrian Doha's bathrooms are to die for.

PROJECT: MONDRIAN DOHA
MANAGEMENT: SBE GROUP, a global hospitality lifestyle company
ARCHITECT: SWA
INTERIOR DESIGN: Marcel Wanders
LOCATION: DOHA, QATAR
Photo credits: SBE GROUP
www.laufen.com