Perrin & Rowe - British Brassware Built to Last
by Kevin Mullaney, on Feb 20, 2018 6:32:00 PM
One of the most elegant and stylish stands at Sleep this year was from renowned British brassware masters
Perrin & Rowe
. Giving Foam & Bubbles their tips on hotel design and a taste of what's around the corner in the world of brassware.
Can you tell us a little about Perrin & Rowe?
We've been around about 45 years, a UK manufacturer which is very rare in brassware particularly. A lot of brassware products are manufactured internationally but Perrin & Rowe is, and always will be, manufactured in the UK. We work towards the luxury market because every product is handmade by all of the craftsman that we employ. So it's all manufactured by hand, polished by hand, packaged by hand so we can guarantee that everything is to the highest quality.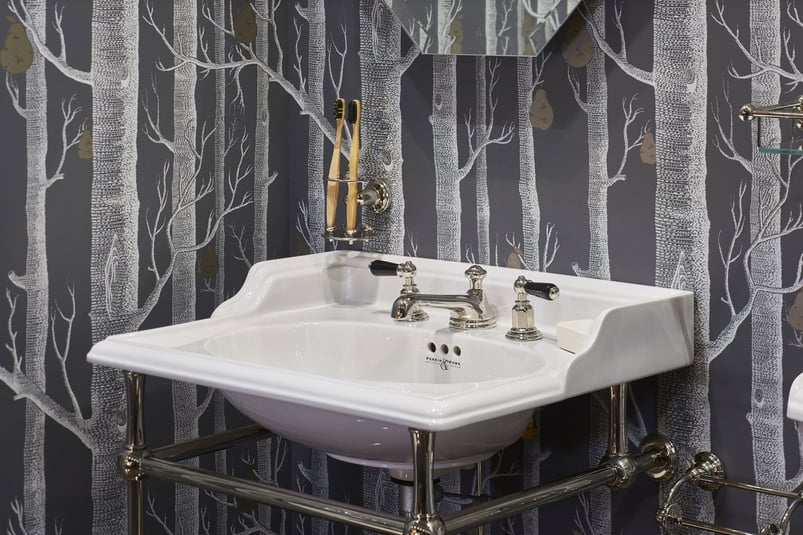 Victorian 3 Hole Basin mixer with Lever Handles by Perrin & Rowe
What sort of hot design trends are you seeing in the bathroom space?
It's all about materials, people are now using solid materials such as marble and solid wood. With brassware people love to see it exposed and more of it. The other thing is finishes. We're seeing a massive increase in unlacquered brass, bronzes and copper. Whereas before it used to be 80 to 90% chrome it's swung the other way with brass and coppers being the more popular choice.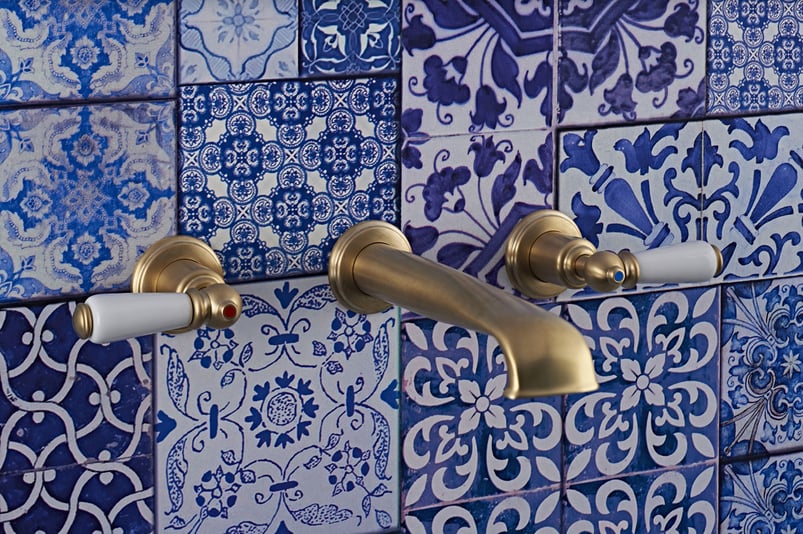 Traditional 3 Hole Wall Mounted Bath Filler with Lever Handles Satin Brass
What do you think is the big hero piece everyone should have in their bathroom?
Actually it's not something we offer per se but I think in the bathroom if you have a big grand freestanding bathtub, like we have on our stand from Victoria + Albert, you can pair that with our big exposed freestanding bath / shower mixers. So when you walk into a bathroom like this you see the big freestanding tub with mixers, I don't think there's anything more luxurious than that setup.
What do you think consumers can learn from hotel design and act on in their own home?
I think it's subtle little touches really, I don't think you need to go very far to add some comfort and luxury into your bathroom. So if it's just a little change of accessories, make the most of what you can offer on your walls. A lot of people try and go whole hogg and try and change the whole bathroom which is costly and takes time but you can add little touches of luxury just to give that uplift and colour to the entire room.
Is there anything you should avoid bringing over from hotels?
Not really, I think hotels are a great sounding point because people go to hotels quite often and when you go into that bathroom you remember that set up and think, 'I'd love to have that in my home'. So hotels have really spent a lot of time and money to make customers feel relaxed, with added luxury, and those customers try to recreate this all the time back home. So I think a lot of thought goes into hotel bathrooms and there's not anything that you should particularly avoid.
Hotels obviously need to be more robust and durable, does that require a different approach?
It's not a great business plan for us, not a lot of repeat business, but with our brassware we really try and push longevity. The valves on our products last 250,000 life cycles which is about 25 years worth of use. We have plenty of hotels who have had our brassware fitted for over 15 years or more. It's kind of a shame because after a hotel refurb we find that our brassware has been kept and not resold. But to find out there have been four or five refurbishments and hotels have kept our Perrin & Rowe taps, it's the greatest compliment and that's something we really push for and are proud of.
Any predictions 2018?
I think the special finishes are fresh in people's minds and I think there's going to be some new and exciting colours coming out next year. That's certainly something that we're looking at. We create all our own finishes and have our own foundry in the midlands, in the UK. So we're currently looking at new finishes to bring out to the market. Hopefully we're going to bring satin gold into the market next year, which is actually 24 karat gold plated and then we almost scotch bright the product to give it this satin brushed look. It doesn't patina very quickly so it's not like a living brass finish, so it lives a lot longer in it's full colour but also looks fantastic so that's really exciting.
For more information visit
Perrin & Rowe
.