Quality Comes First: Expert Advice From DeVal Bathrooms
by Kevin Mullaney, on May 10, 2018 4:58:00 PM
At Foam & Bubbles our sole mission is to help customers create their dream bathroom and the one piece of advice all experts will agree on is you must invest in quality products and fittings. But how can you tell the difference between real quality products and something that's just got a big price tag?

We took a trip to Cambridge to meet Cheryl from DeVal Bathrooms to find out how the experts choose which bathroom manufacturers to display in their showrooms and what consumers should look out for when choosing quality products.



Could you introduce DeVal bathrooms and what you do?

My name is Cheryl DeVal, I'm the sales director at DeVal Bathrooms. The company is run by myself and my husband and we specialise in the design, supply and install of bathrooms, taking care of the whole project from start to finish.

With so much choice in the market how do you decide on which brands to display and recommend to customers?

When it comes to choosing which manufactures we work with as a company, I ask myself 'would I have them in my own bathroom?' and if the answer is yes then that's good enough for me.

We also look at the quality which is the most important thing. Bathrooms need to last as they're not in for just five or 10 years but 15 or 25 years, so quality always comes first when choosing products.

I also think about spare parts availability, what's their customer helpline like, what's their warranty like, so all of these things need to be taken into consideration when looking at bathroom products.

What's the one piece of advice you'd give to consumers looking to find quality products?

One piece of advice I like to give all of our customers is that rather than going to one bathroom book that does everything, go to specialised manufacturers. You'll see the difference for example when you pick up a GROHE tap and feel the real weight in that German engineering to when it's unbranded and you don't really know where it's been manufactured.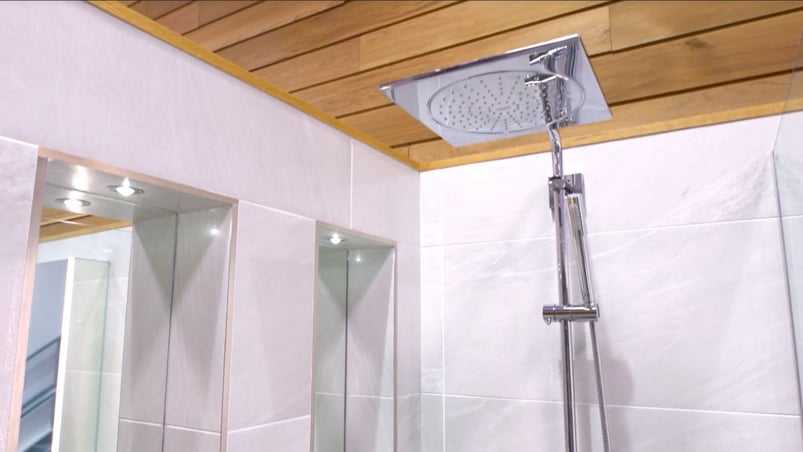 Can you walk us through one of you favourite showroom displays and how you chose the products?

In these beautiful showroom displays we wanted to do them justice so we thought by choosing some really good quality products to go with them would make the display stand out.

For example, we chose GROHE's Atrio range for the brassware, a really premium, quality manufacturer who are real specialists in what they do. To compliment the really beautiful Atrio brassware we chose a really amazing free-standing bath from Ashton & Bentley and complimenting basins to match.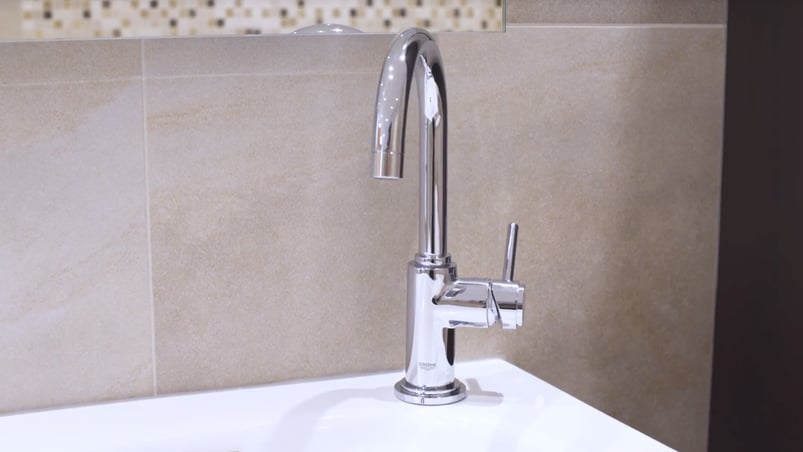 When someone is looking to really step up what they have in their bathroom, then a rain shower is something you really need to try out and experience isn't it?

Absolutely, it really is a very different showering experience. It's one of those things where we're now putting seats in showers, not just for the elderly or those who need the support but because you can sit under your rain shower after a hard days work and it's just bliss.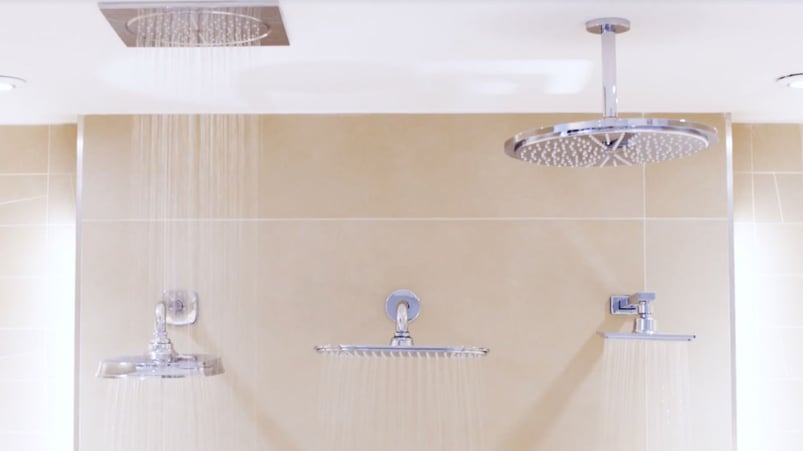 Featured Products:

GROHE Atrio Range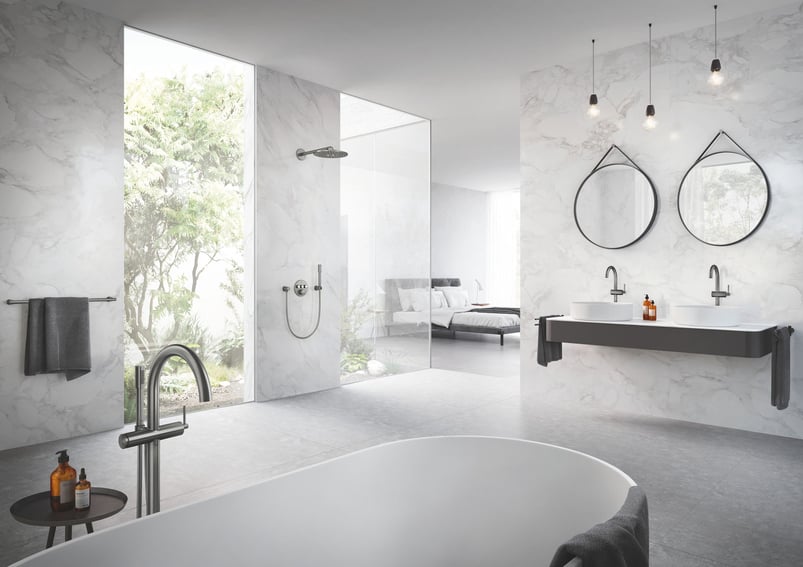 GROHE Rainshower System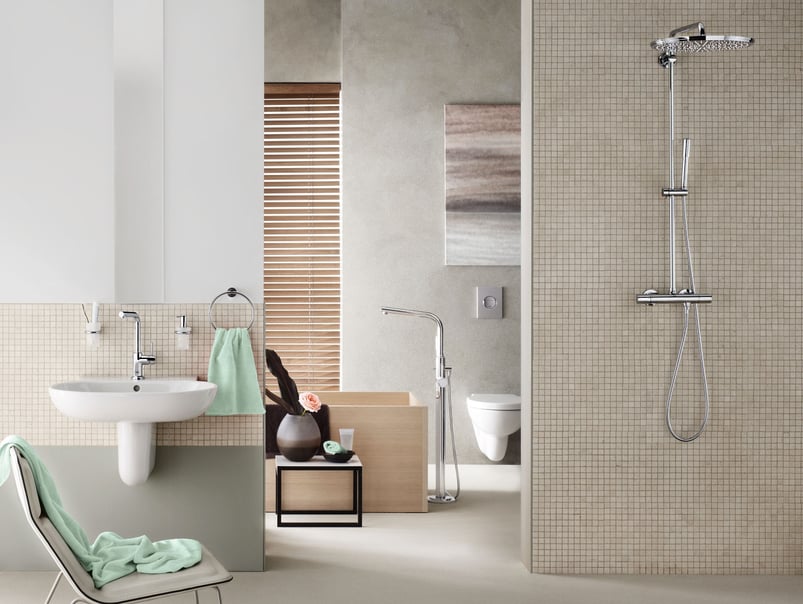 GROHE Eurocube Joy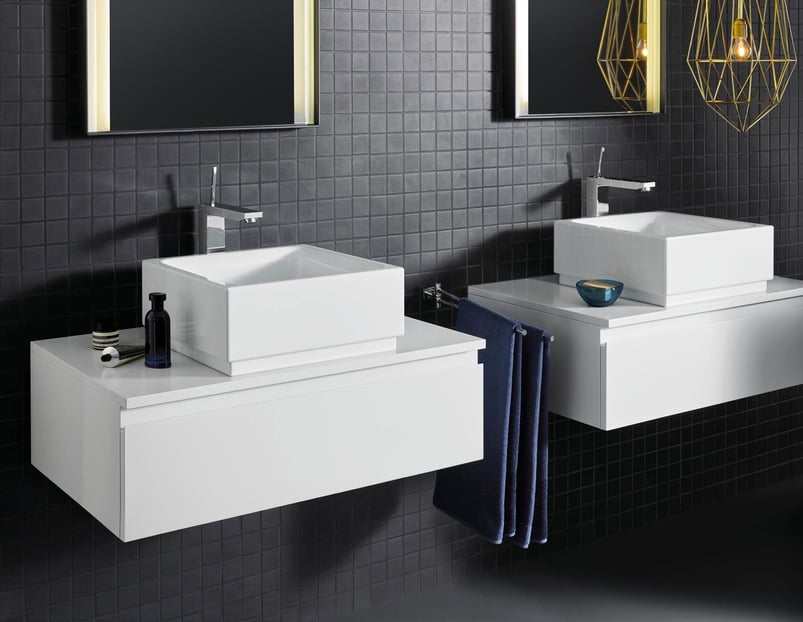 GROHE Concetto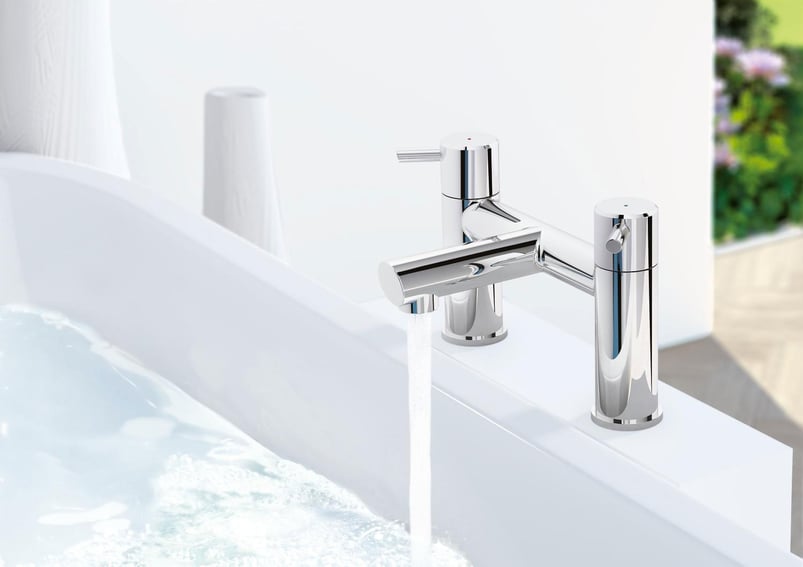 GROHE Allure