Romancing the Stone with Caesarstone
by Kevin Mullaney, on May 30, 2018 11:32:00 AM
An often overlooked, but critically important part of any bathroom, are the worktops, tiles, and stones we choose to adorn our walls, wetrooms and vanity units. Foam & Bubbles got a chance to speak with Jonathan Stanley from stone and worktop specialists Caesarstone, to find out what's hot with consumers right now.


Can you tell us a little about Caesarstone?
Caesarstone is considered as one of the pioneers of the quartz surfaces industry and the company has been going for 30 years. It makes beautiful engineered stone and the marble you see on the stand is some of our most popular models at the moment which fit in with traditional schemes people are putting into their homes.

Equally the product innovation continues at Caesarstone, we continue to lead the way with popular urban finishes like concrete that people are starting to look at. The concrete trend has been around for a little while but obviously you don't want the real thing but something that's easier to live with, and this is something that Caesarstone is bringing to the market.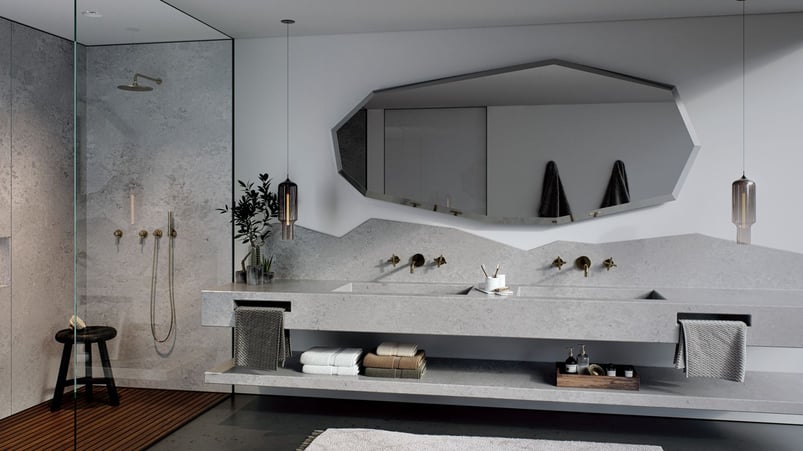 In terms of setting trends do you need to get your stone in more homes for people to start being braver in their decorating choice?

It's a really good question and I think Caesarstone is trying to be ahead of the curve a little bit. So we like to think we're informing consumers a little bit more rather than them playing catch up. Rather than reacting to trends that we see happening we are trying to create the trends in the first place. We are pushing boundaries just a little bit more to attract people to the brand.

In terms of materials I've been seeing a lot more quartz being used is that because of the properties of the material?

I'm a great believer that luxury should be easy to live with, that's a core value for me. If you look at these surfaces everyone wants the marble look but we know that natural stone is porous, it's got flaws because it is natural. The virtue of engineered stone is that you've removed all of those flaws to make it very easy to wipe clean.

Quartz is perfect for bathrooms because obviously it's not porous, they don't stain, they don't scratch and it's a simple wipe down after you've had a shower. It is really something that you want as an experience.