Small bathroom tile ideas to maximise any space
by Hayley Gilbert, on Feb 20, 2018 6:10:00 PM
Here in the UK, we're not known for our large bathrooms. With everything from Victorian terraced homes and 1960s bungalows to compact new-builds and city studios, our housing stock usually comes with a bathroom that's somewhat lacking in space. But fret not, as there are plenty of tricks you can do with tiles to make the room instantly feel bigger and brighter.

Small bathroom tile design
Size really does matter when it comes to tiling the bathroom but the good news is that you can go large or small when looking for small bathroom tile ideas. A large format, whether rectangular or square, will help to create an illusion of space, as there are fewer grout lines to disrupt the finish.
Standard field tiles and even mosaics can also be used on walls – if you're going for a wall-to-wall finish, stick with a neutral palette but if you want to create a feature area behind the basin or bath, play around with colour and pattern, especially if it's at the opposite end of the bathroom, as this will draw the eye and make the space feel longer.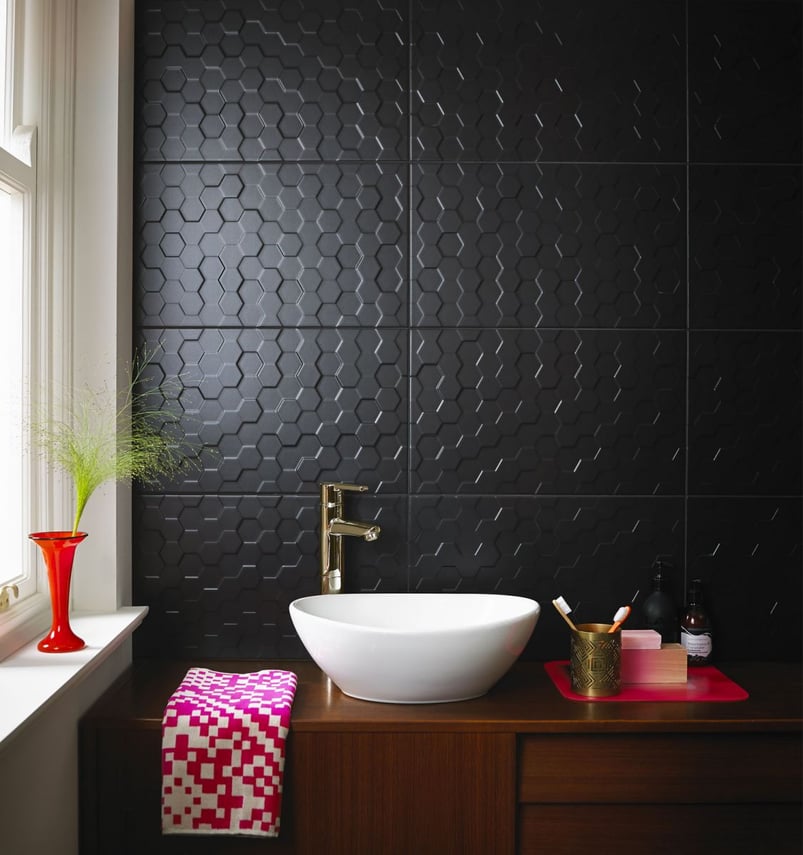 British Ceramic Tile's Form Hex design has a dramatic matt black finish with 298mm x 498mm tiles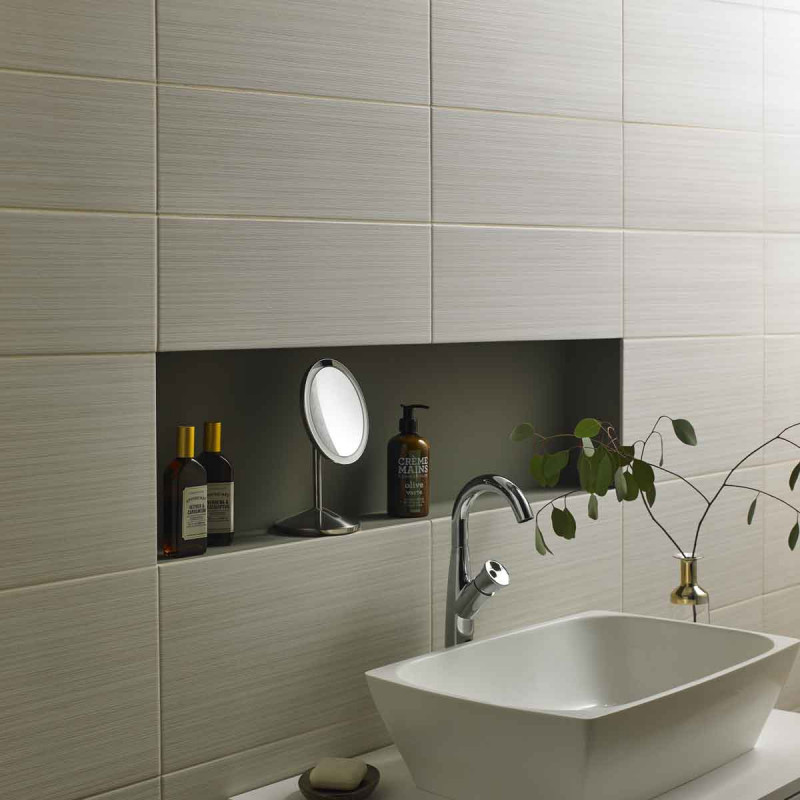 A rectangular design in a neutral colourway helps to maintain a calming feel. Luna Glow beige matt 248mm x 498mm wall tiles from British Ceramic Tile

Colour Block
Consider the colour of your tiles carefully – if the room is north facing, it won't get as much natural light as a south-facing bathroom, so it may be best to go for something really light like a white, cream or pale grey in your small bathroom tile design.
You could always add interest by selecting a darker grout to add definition. While a cool colour scheme certainly keeps things calm and clean looking, you can create a more contemporary feel by going monochrome with a black and white scheme.
Many brassware manufacturers are now launching matt black showers and taps and these look stunning set against crisp white wall tiles and white sanitaryware. A gloss, glass, mirror or iridescent finish has the added benefit of bouncing light around the space, making the bathroom feel larger.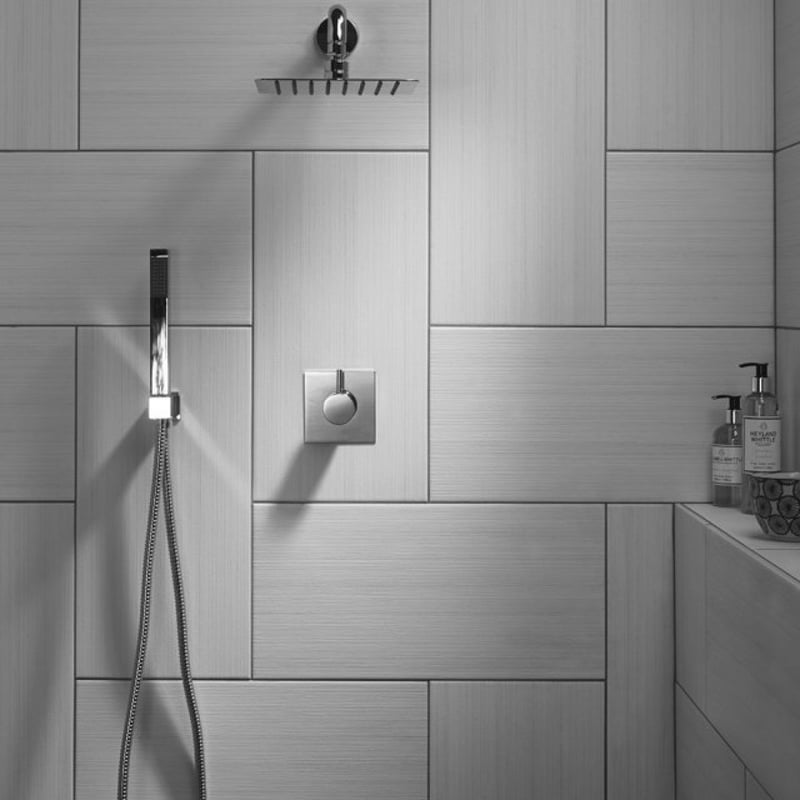 British Ceramic Tile's Luna Cloud white matt wall tile works particularly well with matt black brassware. The 248mm x 498mm tiles

Patterned tiles
Many people avoid pattern and print in a small bathroom yet an interesting design can really enhance a smaller space. To avoid a busy look, create a feature wall or small splashback area, or go for an on-trend pattern underfoot with the latest geometric, Moroccan, Victorian or retro styles.
Another design trick is to create continuity by tiling walls and floor in the same style. You can always highlight the area with feature lighting and accessories that pick up on any accent tones.
Finish the look with potted plants and succulents, which are set to be big news in 2018's interiors.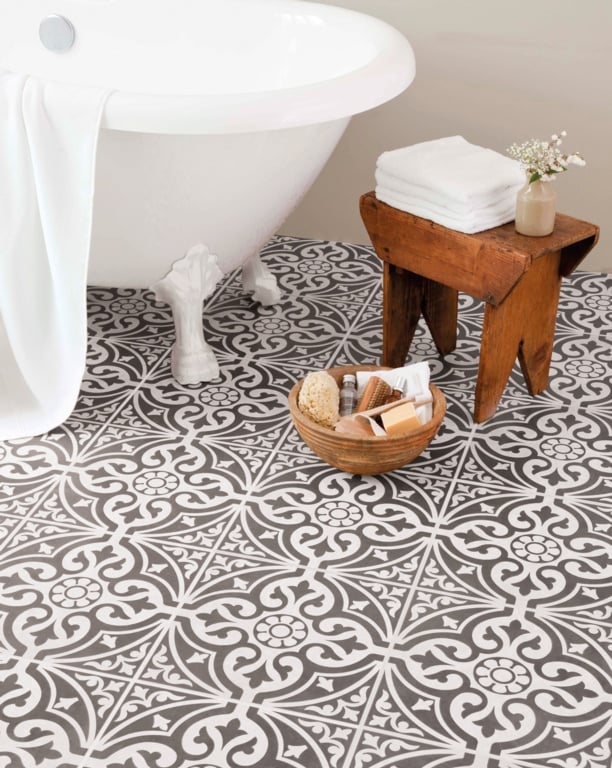 British Ceramic Tile's Devonstone grey satin 331mm x 331mm tile looks striking underfoot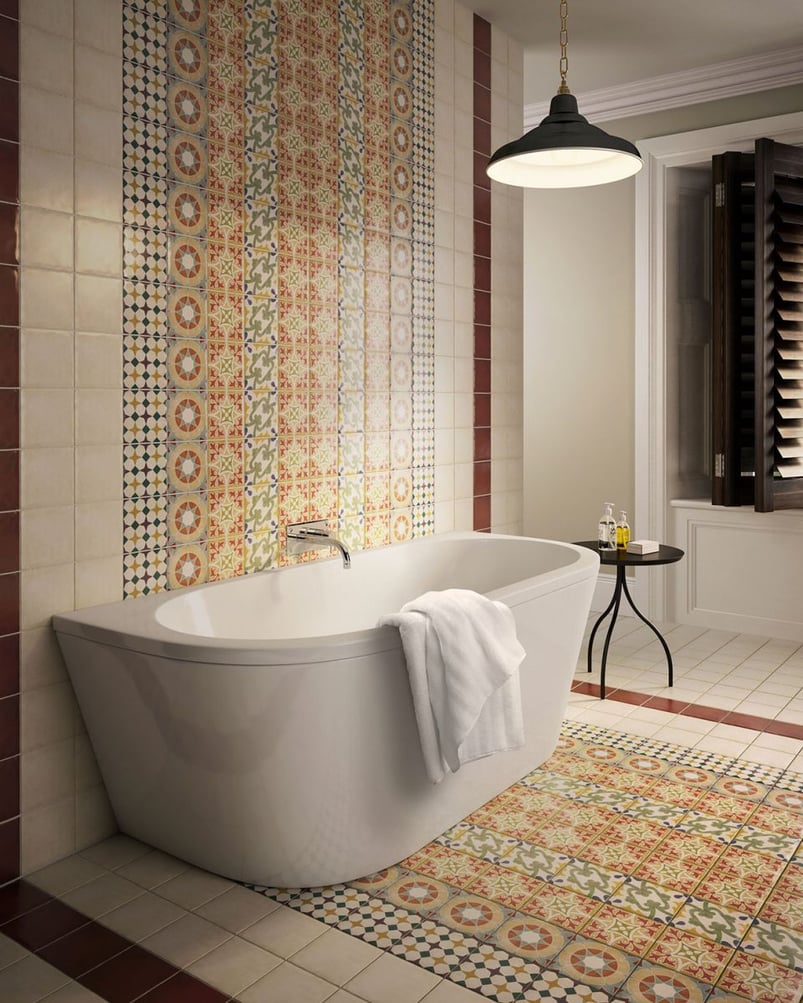 Use the same tile for walls and floor and create a feature area using British Ceramic Tile's Parian set of 12 coloured 142mm x 142mm décors

Ideas for compact cloakroom tiles
Along with en-suites and wet rooms, the cloakroom is often the smallest room in the house so careful planning is essential in order to make the space feel as large and luxurious as possible.
A glossy finish gives cloakroom tiles a reflective quality that helps to bounce light around the room, while rectangular shapes are still very much in favour, especially when you apply them in a herringbone effect behind the basin or vanity unit.
To prevent the room from feeling cold and stark, introduce warmer elements such as wooden or laminate flooring, underfloor heating and a heated towel rail.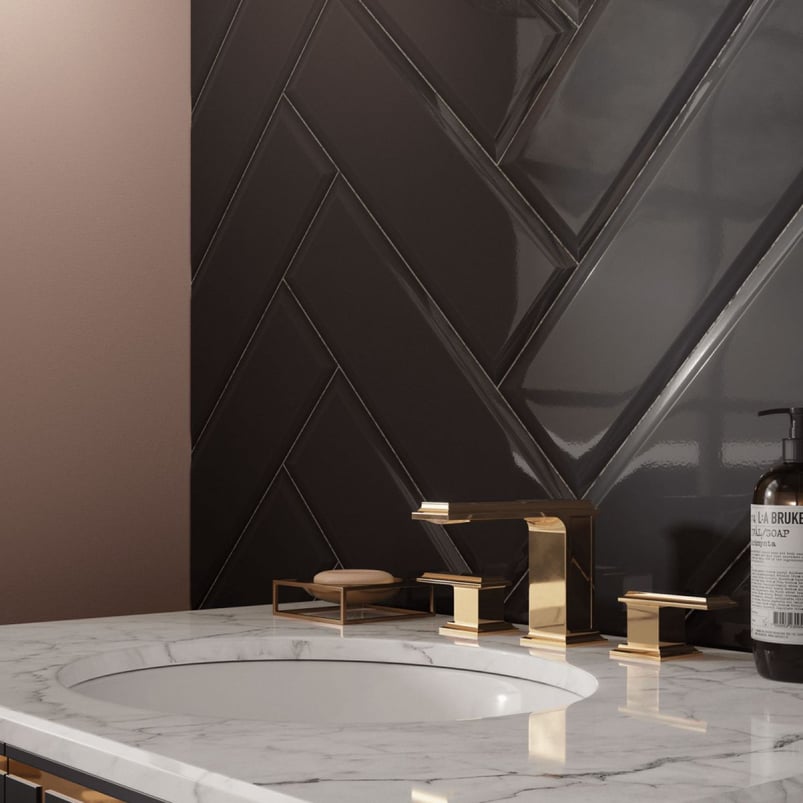 The way you position cloakroom tiles can make a difference, especially in a small space like the cloakroom or en-suite. V&A Metro anthracite bevel gloss 148mm x 498mm tiles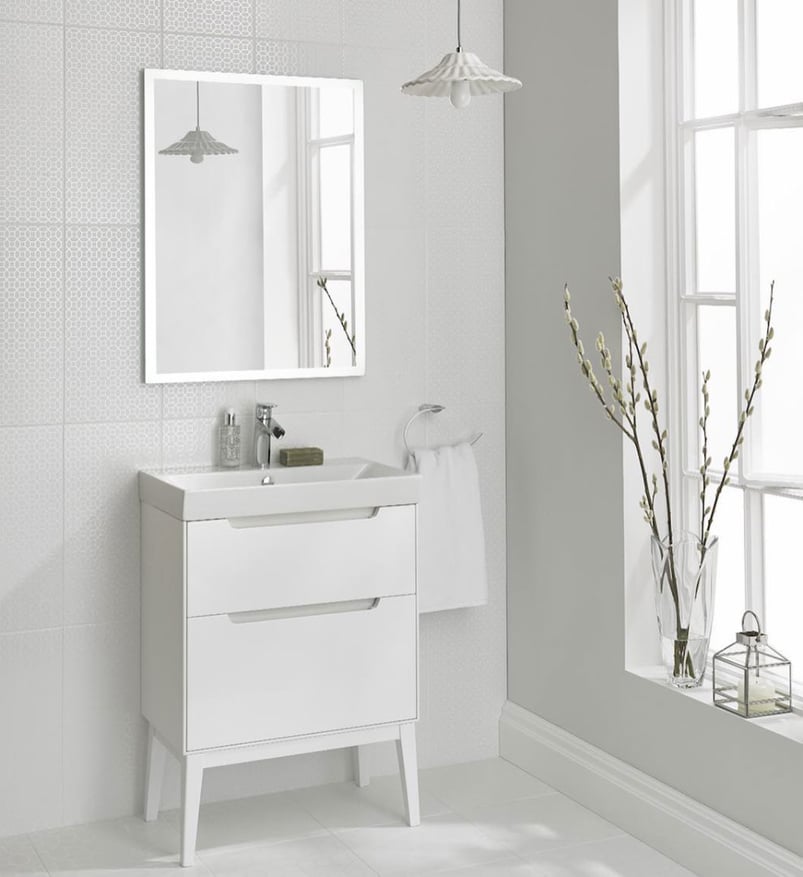 The Laura Ashley Marise 248mm x 498mm wall and 331mm x 331mm floor tiles create a feeling of space by blending walls and floor together

Find out more from British Ceramic Tile here.