Space-saving style and ultimate control in the shower
by Sarah Warwick, on Feb 19, 2018 1:36:00 PM
Need to maximise showering space in a small bathroom or ensuite without sacrificing good looks or technological innovation? Hidden installation is the key and Grohe's SmartControl Concealed has been designed to create more space, offer easy and individualised control of each shower, and look fabulous to boot.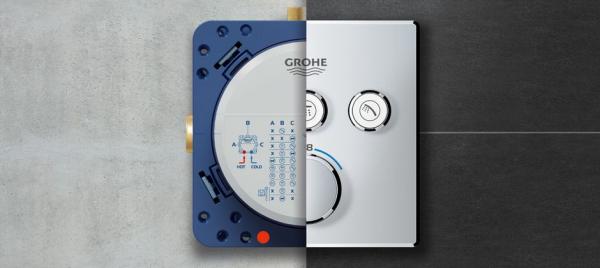 Why does SmartControl Concealed save space?
Beautifully slim, the wall plate of the SmartControl Concealed is just 10mm in depth while the distance from the wall to the top of the control button is a maximum of 43mm, saving valuable space in the shower area. The technology that makes shower control so fine is hidden from view with only the contemporary and stylish plate on view. There's an integrated sealing system, too, which means water behind the wall isn't an issue.
With its unobtrusive design, SmartControl Concealed is ideal for new bathroom installations and the dimensions make it an automatic choice for rooms where exploiting every centimetre is vital. It's not just for small rooms, though. If fuss-free lines are on your wish list, SmartControl Concealed will meet your needs, too. Cutting down on cleaning time ultra desirable? Then the sleek design scores maximum points here as well.
What SmartControl Concealed finishes are available?
With a square or round design on offer, SmartControl Concealed suits bathrooms with angular lines for the shower and other fittings, as well as those with more curvaceous elements. There are also two finishes: for a classic effect, select chrome, or soften the look of the room with moon white acrylic glass instead.
How easy is SmartControl Concealed to operate?
SmartControl Concealed is simple and intuitive showering that makes it a brilliant choice for master ensuites as well as family bathrooms. The shower starts at the touch of a button; it's easy to see which shower functions each button operates; and the knurled grip ensures that turning the buttons to adjust water flow and temperature are easy for family members of all ages.
A personalised shower experience is easily achievable on every occasion as well. Controlling the spray creates a spa-style soothing summer rain effect, or a massaging flow if required, while adjusting the flow allows the effect to range from gentle spray to deluge. Any desired change in temperature takes under a second, and for both safety and comfort, temperature is constant throughout your shower.
HOW MANY SHOWER VALVES CAN SMARTCONTROL CONCEALED WORK WITH?
How many shower valves can SmartControl Concealed work with?
Multiple shower heads are an appealing feature of a modern bathroom and the SmartControl Concealed comes with one, two or three control buttons to enable you to operate three shower valves from one sleek design.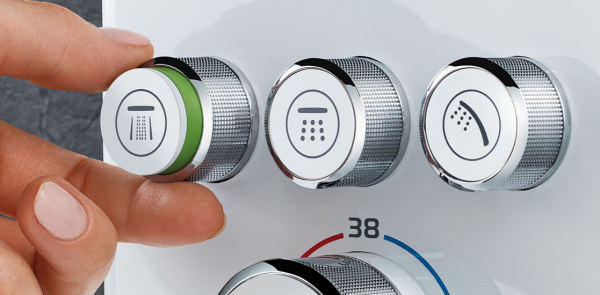 Find out more about
SmartControl Concealed