Striking features by Bagnodesign, Glasgow
by Linda Parker, on Feb 19, 2018 6:39:00 PM
The owners of this bathroom wanted a striking bathroom which would be a main family bathroom, also doubling as the main en-suite to the master bedroom. The design brief was to create a bathroom which blended with the overall design of the house but which had it's own outstanding style. Designer Duncan Heeles, from Bagnodesign was assigned the brief.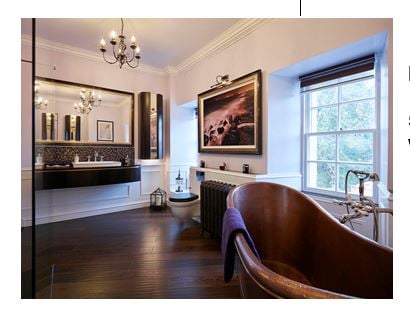 Can you sum up the brief for this bathroom?
Our clients had seen the stunning copper bath which we installed in the Bagnodesign showroom when it first opened, so that was destined to become the focal point. They are art collectiors, so needed wall space to hang portraits in suitable surroundings. We decided that timber panelling would be more appropriate than tiles, and of course also suggested ambient picture lights and under-cabinet LED lighting. A chandelier provided a luxururious focal point and links in with the style and design of the property.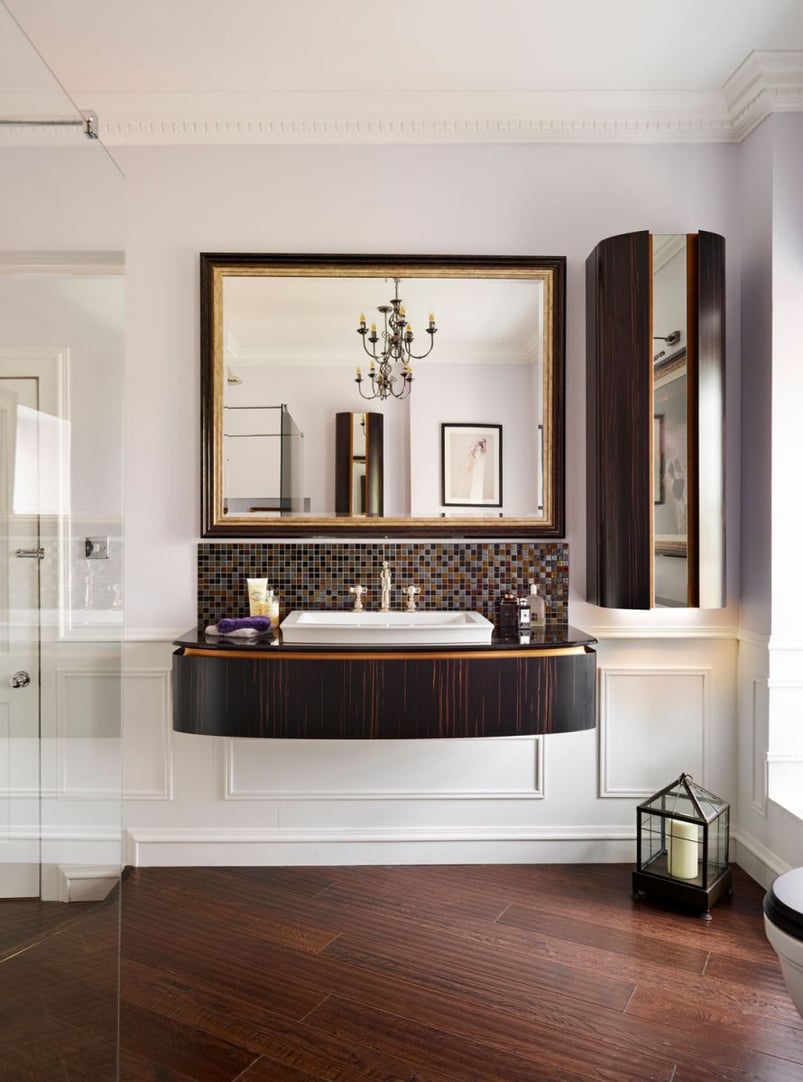 Did the room need any major structural alterations?
It was a complete refurbishment, the original en-suite and dressing room were removed and a new wall was added to separate the new bathroom from the bedroom. New ceilings and cornicing were installed, and a new floor had to be added to allow the position of the shower to be moved away from the existing soil pipe.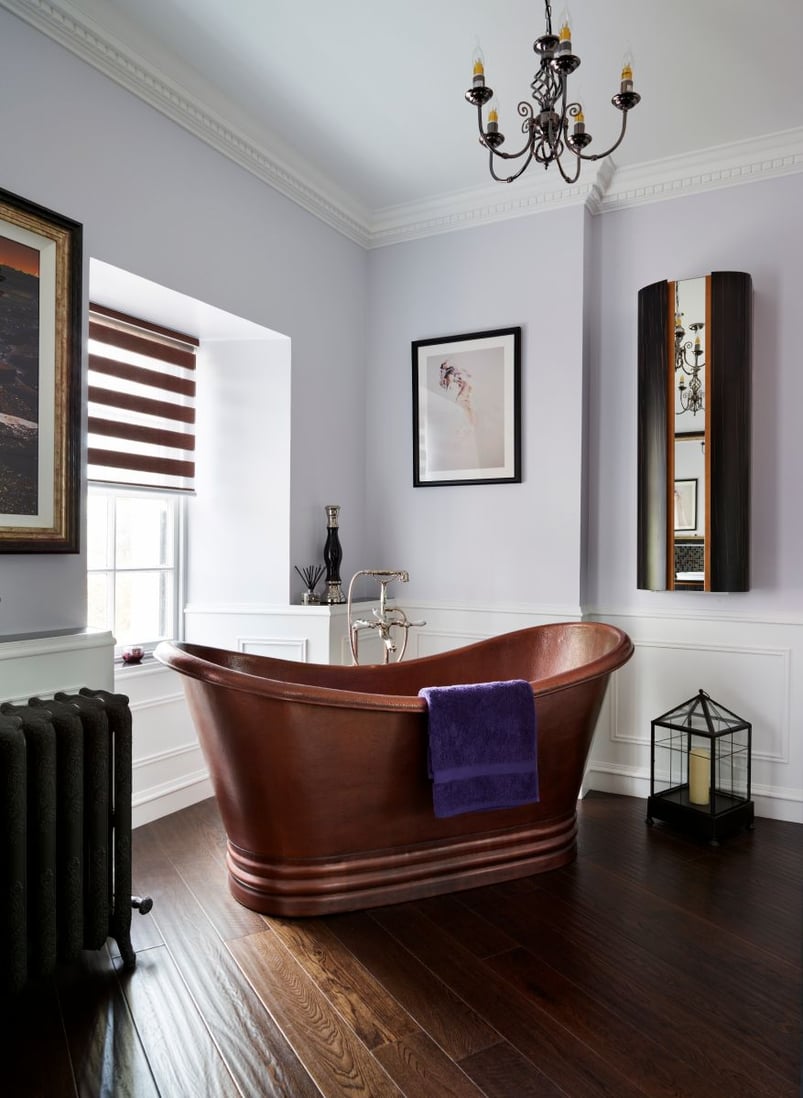 Was there any particular feature your clients wanted to include?
Yes, the bath was a pivotal choice, plus the correct environment for panelling and art works. Because of the overall scale and size of the room, we had to look upon the layout as a combination of defined areas, each working individually but also combining to procue a tranquil, beautiful space that is relaxing to use as well as looking stunning.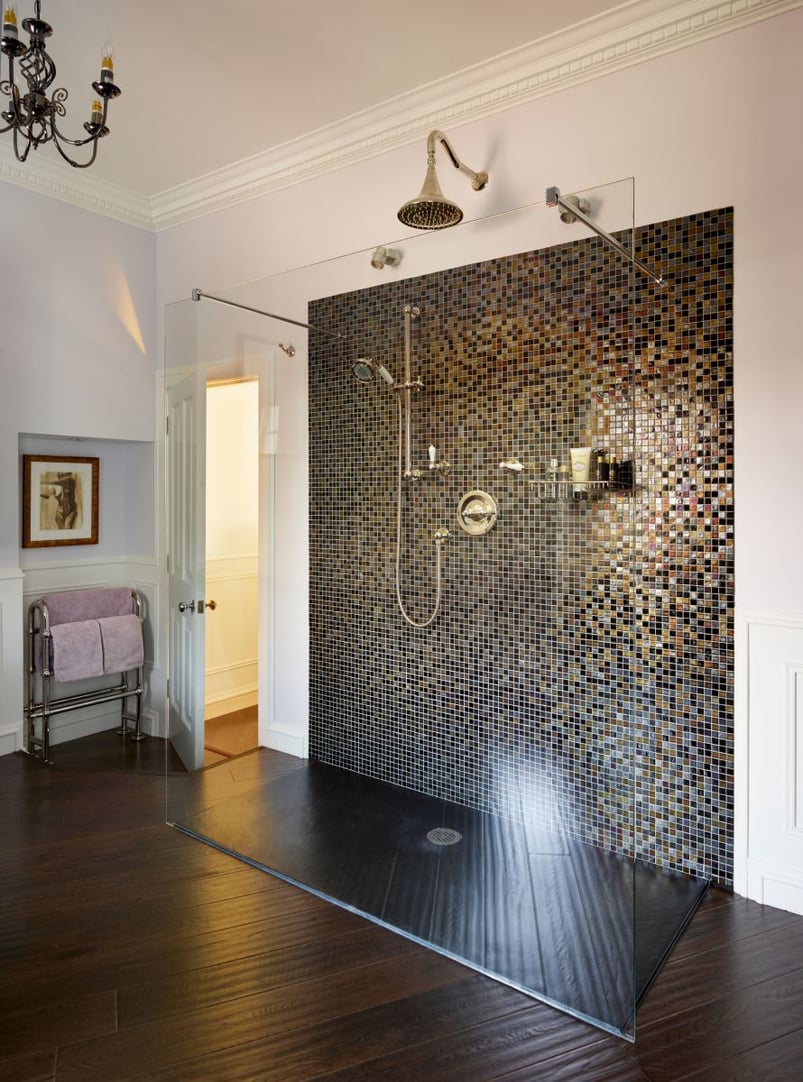 Were there any items that were specifically made for this bathroom?
We specified bespoke black glass surfaces for a bulkhead, which was also designed to allow the WC cistern to be hidden. The surfaces matched the basin unit, which is also topped with black glass. All the panelling had to be hand-made and the mouldings also had to be individually made and matched.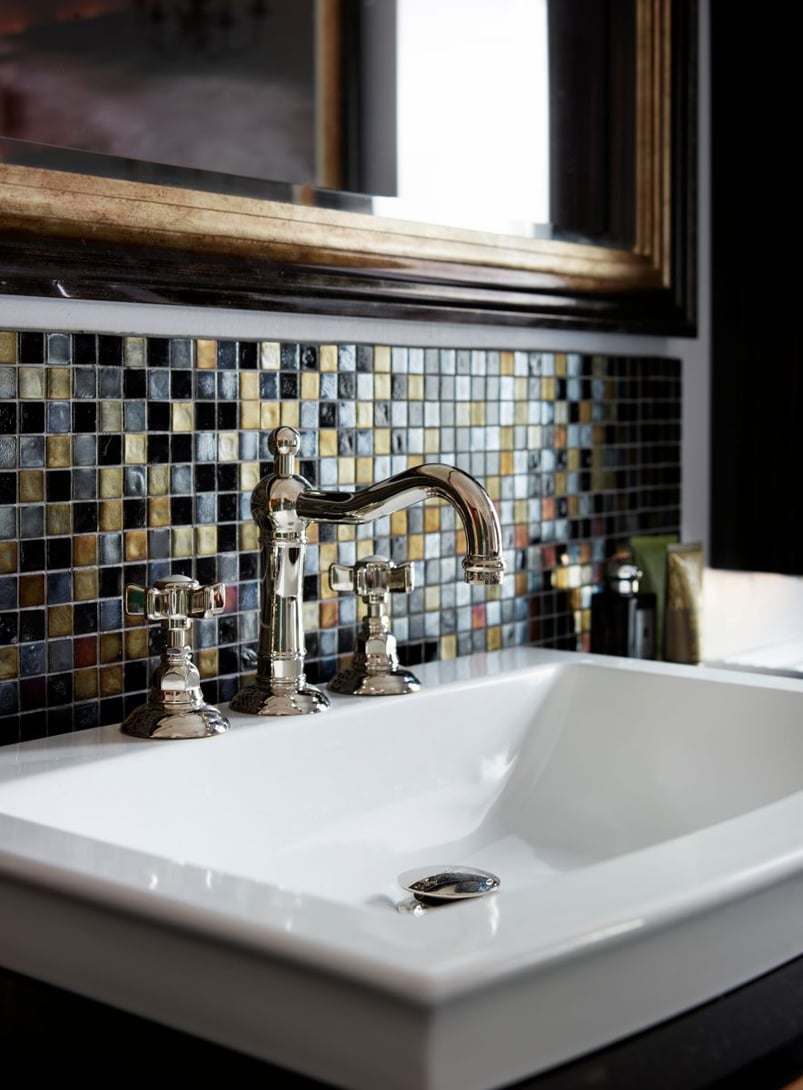 What design features do you particularly admire?
I like the lighting features, the overall ambience is peaceful and relaxing. There is subtle room lighting which is operated by an automatic magic eye system when someone enters the bathroom. Of course, there are also separate light switches as well.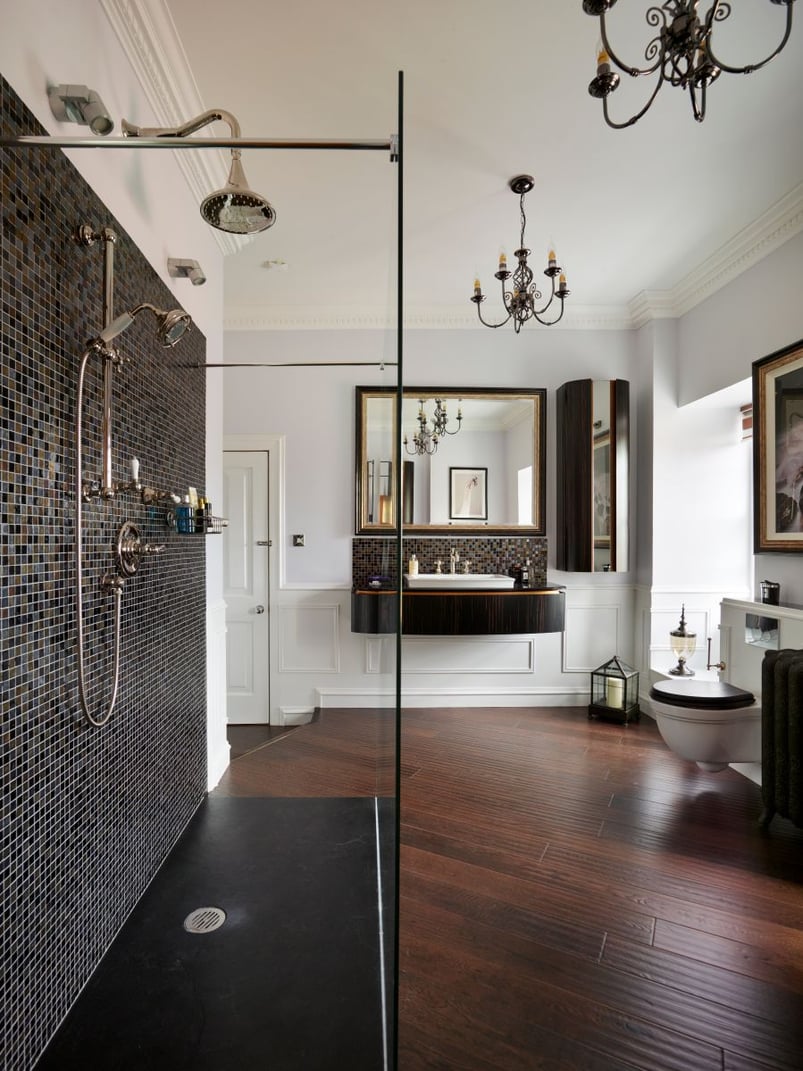 Featured products:
All brassware and sanitaryware: The Bloomsbury Collection from BAGNODESIGN London
Furniture: Ebony vanity unit and tall cupboard, also from the Bloomsbury Collection from BAGNODESIGN London
Bath: Camborne freestanding copper bath, BAGNODESIGN London
Shower: Aqata
Radiator: Aestus
Mosaic tiles: Anjasora
Bathroom design by Duncan Heeles, BAGNODESIGN, 269-273 Great Western Road, Glasgow G4 9EG. For more details or to book a design appointment visit www.bagnodesignglasgow.com or call 0141 354 0330

Foam & Bubbles expert verdict:
This spacious bathroom has it all… a feature bath, glorious walk-in shower, double basin unit and a beautiful, calm and peaceful atmosphere. Full marks!
Photography: Darren Chung