The Legendary Hotel de Crillon Equipped with THG Paris
by Tamsin Allen, on Feb 20, 2018 3:06:00 PM
A stunning hotel has reopened in Paris – but
Hôtel de Crillon
had a history dating all the way back to 1758 and presented quite a challenge. The question was: how do you respectfully modernise an 18-century beauty? Read on to find out how they achieved stunning results.
Hotel de Crillon:
Originally built in 1758,
Hôtel de Crillon
enjoys an unrivalled position overlooking the Place de la Concorde. The legendary palace offers a refined and illustrious history, encapsulating the very best France has to offer.
In March 2013, Hôtel de Crillon closed its doors to embark on a major renovation to further enhance the majesty and elegance of this exceptional establishment, while conserving the spirit of its prestigious 18th-century edifice. Inspired by its glorious history, respectful of its traditions and faithful to its character, the restoration adds a contemporary polish to the hotel.
Under the guidance of renowned architect Richard Martinet, the artistic director Aline d'Amman and three Paris-based decorators—Chahan Minassian, Cyril Vergniol and Tristan Auer—have created a rich tapestry of sophisticated interiors. The transformed Hôtel de Crillon offers incomparable luxury with eclectic, art-driven spaces that culminate in an emotional crescendo… elegantly expressing the spirit of Paris.
Project Brief:
THG Paris
were contacted about three years ago by two architects:
Architect Chahan Minassian
, who designed the Bernstein suite, chose the Diplomate Royale Collection in a gold finish because he wanted a chic style à la France. The project brief was to create a classy and elegant design that could focus on the large round bathtub as a centre piece. The Bathtub is not from THG Paris because they didn't have Bath collection at that time.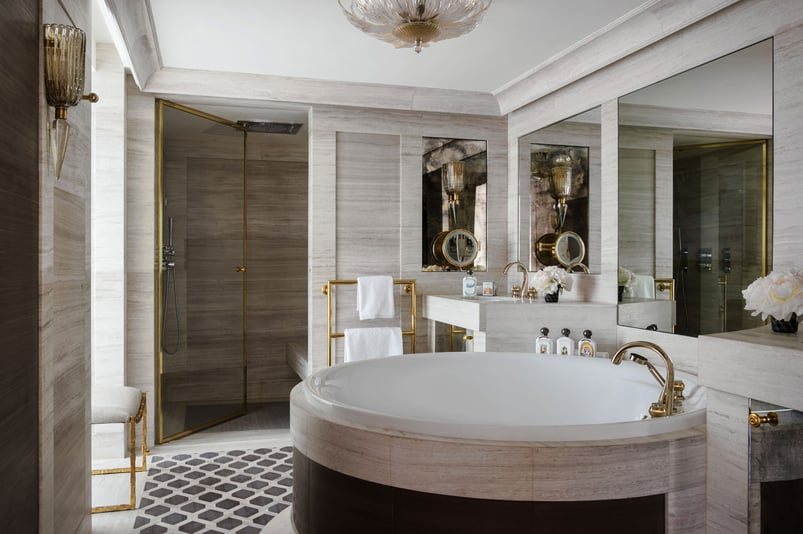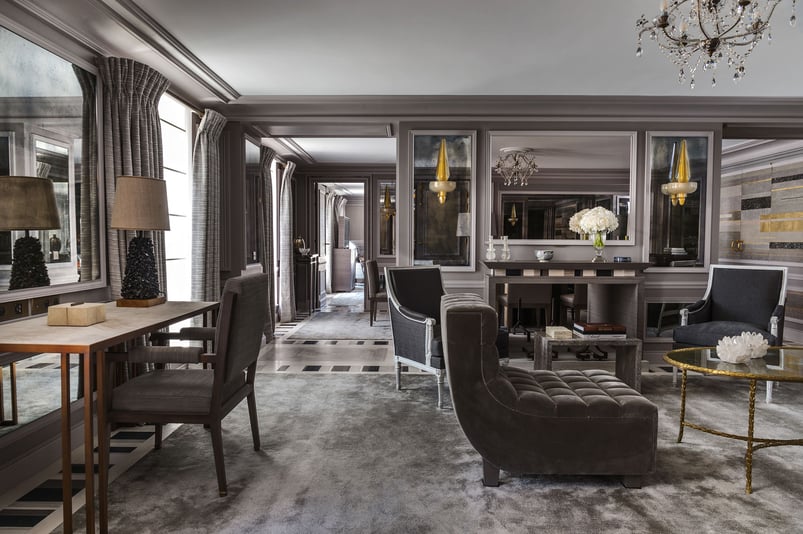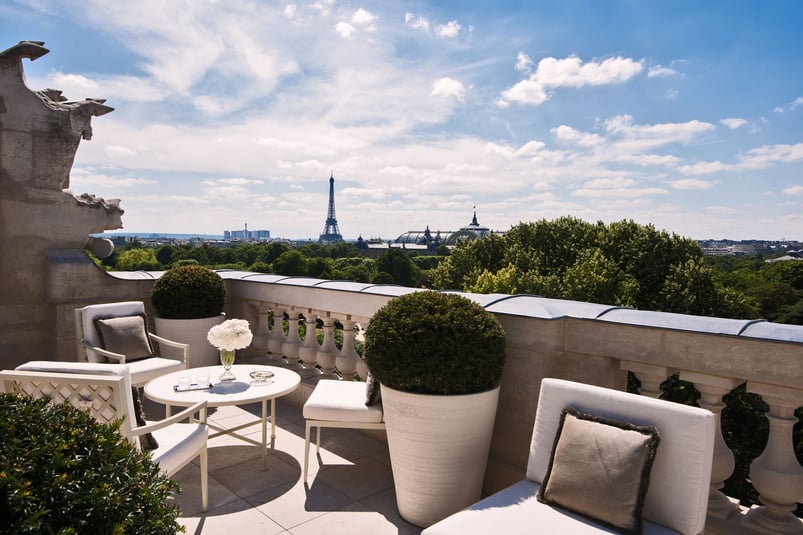 Culture in Architecture (CINA)
designed the Marie-Antoinette suite. They selected the Collection 'O' in Rose Gold because they were looking for very feminine and sensual taps, accentuated by the rose gold finish.
The technical issue was to how to install the taps directly on to the marble top (on the bathtub and on the basin) - this is where THG Paris's specialist expertise in luxury bathroom fittings was necessary as our engineering unit had already developed taps which could be installed directly onto marble a few years previous.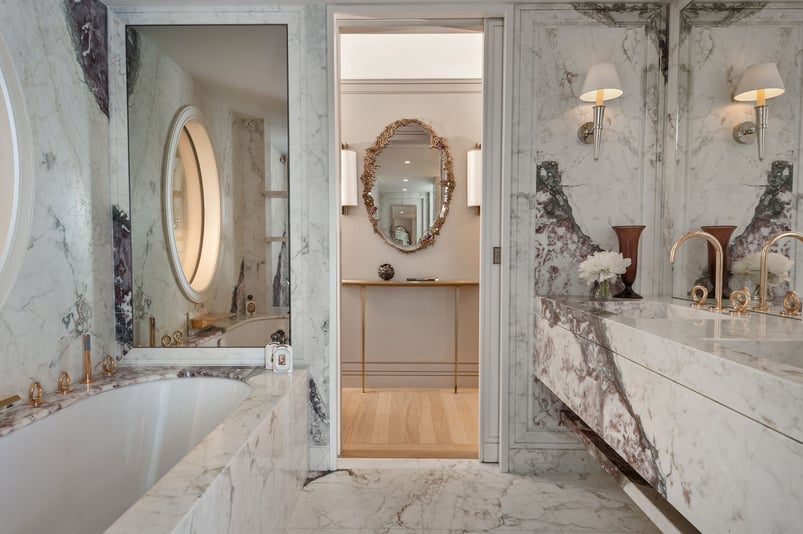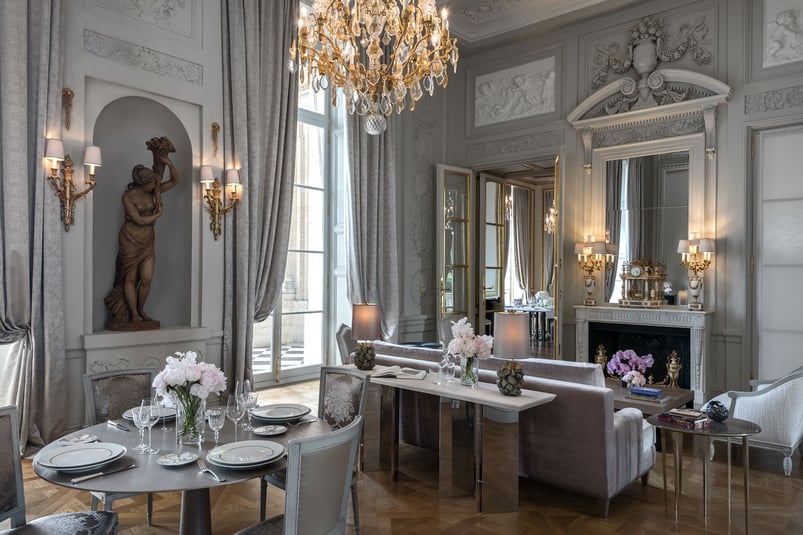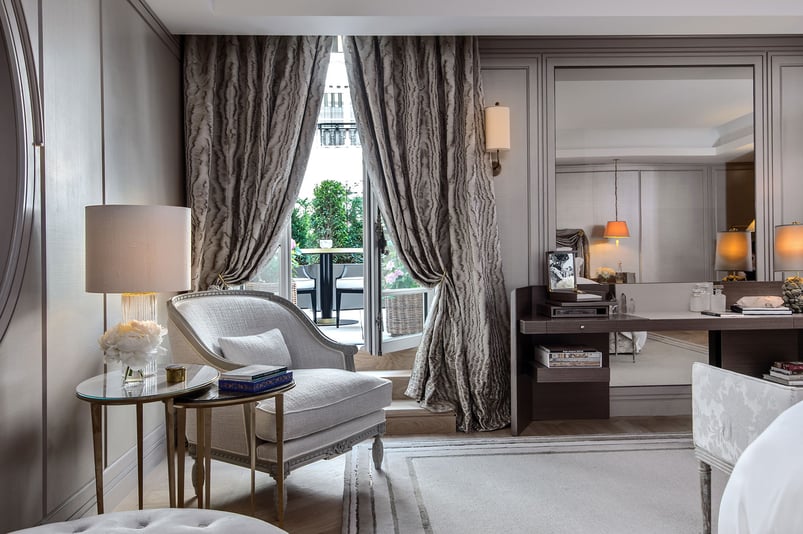 Products
Diplomate Royale Collection in a gold finish
Collection 'O' in Rose Gold
All the bathrooms where THG Paris taps were chosen are also equipped with THG Paris accessories, including towel rings, soap dishes, waste bins, etc.
Foam & Bubbles Expert Verdict
I have to say, 'just wow' to this project. To seamlessly blend old and new with luxury textures and a beautiful colour palette tied together with brass accents, is quite an achievement. You can tell it was a labour of love and the gold brassware of THG Paris is the perfect finishing touch. If you would like to contact me for further comments, I'll be on that amazing terrace sipping cocktails and taking in all of Paris!