The ultimate list of hyper-luxury bathtubs
by Dorothea Kotte, on Jun 12, 2018 5:06:00 PM
Welcome to our list of the most insane baths on the planet! These baths fall into a category all of their own as works of art in their own right. Although many of these baths may cost as much as your average hyper car they're free to admire.

So, feast your eyes on the hottest baths to grace the bathrooms of the super wealthy.


The Shoe Bathtub

As the name suggests this elegant and floral inspired bathtub is designed to look like a high heeled shoe which is adorned by glass mosaics. Made by SICIS and Designed by Massimiliano Della Monaca, this tub is anything but a novelty. The stunning decoration invites you into what is the ultimate bathing experience and masterpiece of relaxation.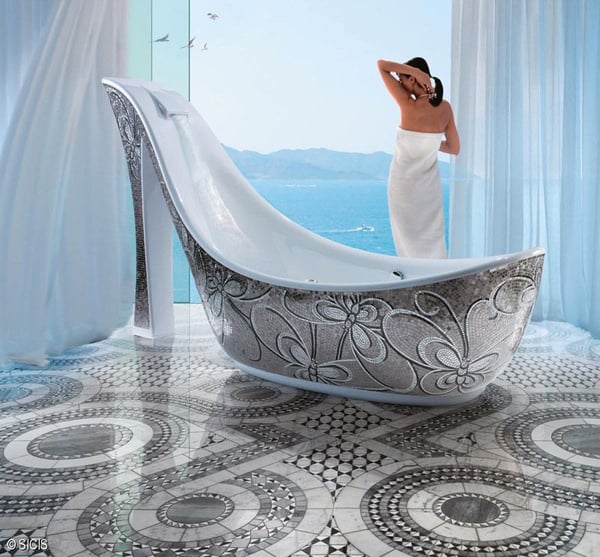 The Golden Hammock Bathtub

Splinterworks is known for their iconic hammock baths that are a designers wildest dream. The hand gilded bathtub is 24 carat Gold, made of individual leaves that are hammered across its surface. Regardless of the rare metals its sleek organic form is pure perfection and something to admire.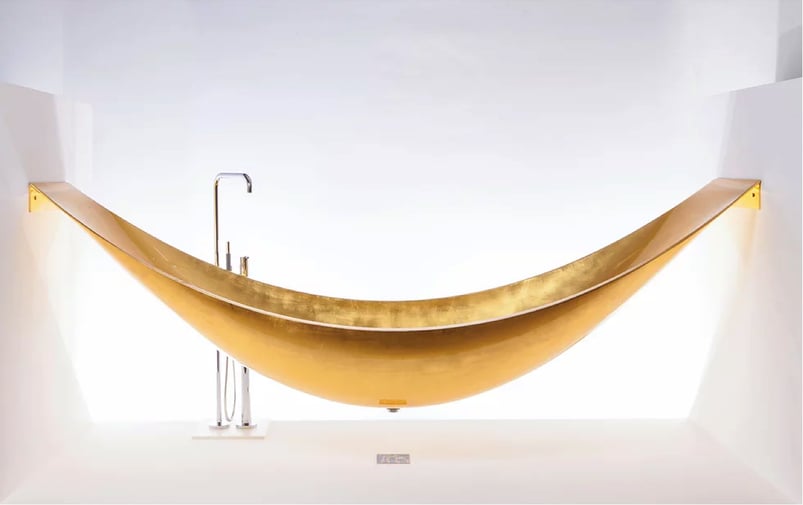 The Cob Bath

The signature bath from Omvivo is absolutely unique in its design and shape, which is truly revolutionary. This ultra modern beauty has been designed for enhanced comfort and a peaceful bathing experience as water cascades out of the bath to make fora splendidly relaxing waterfall ambiance.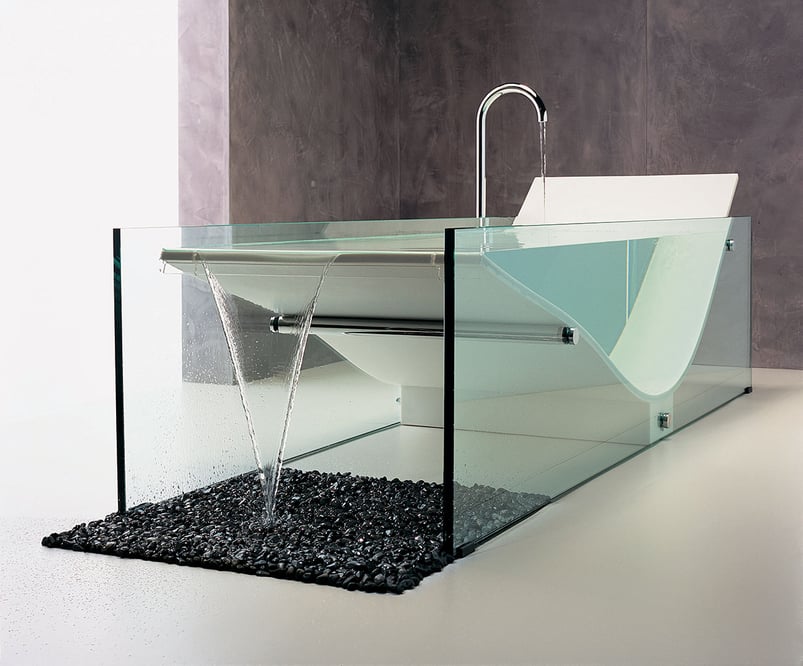 Lotus Bath Collection

This bathtub made out of wood is the ultimate luxury item for a natural house, made by NK Woodworking & Design. The polished wood makes it a timeless, organic addition to any home and compliments interiors with natural wood features or those wanting to bring a little nature into a modern environment.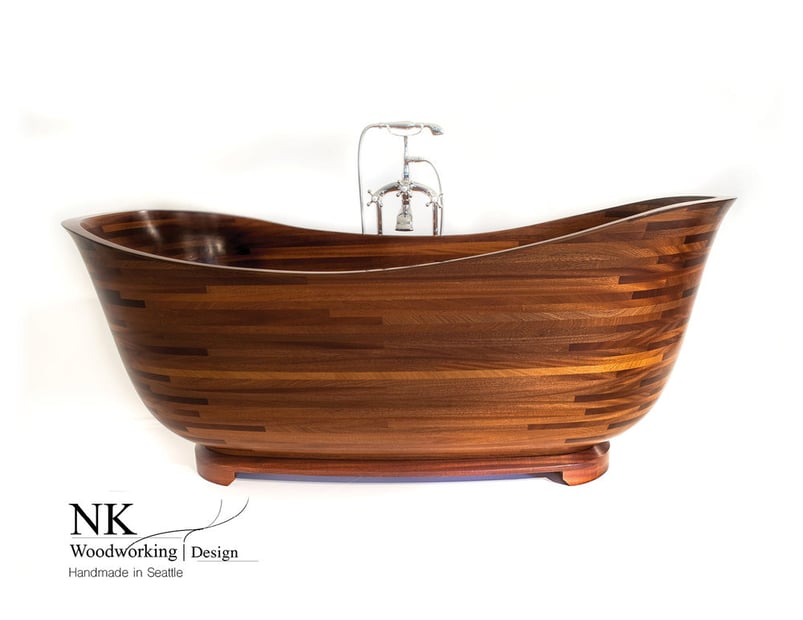 The water lounge

This bathtub is the perfect combination between high-end design and wellness. The fact that it is transparent is only a glimpse of innovation behind the Hoesch bathtub. You can also be treated to a therapeutic air massage while you relax in the ergonomically masterful submerged seat. But if you decide to sit back and soak you can also get lost in your favourite book with a built in light to help you read. This tub really has it all.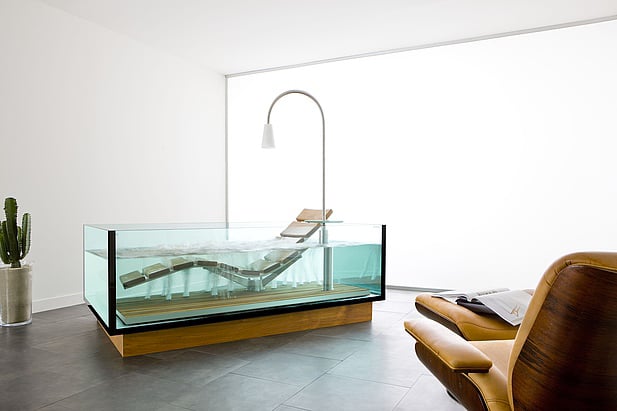 The Black Diamond Bathtub

From Maison Valentina, this stunning modern piece of art is a masterpiece that will rival anything you could hang on the wall. The diamond shape both in and out has a gloss finish which will act as the talking point of your entire home and might become the favourite seat in the house too!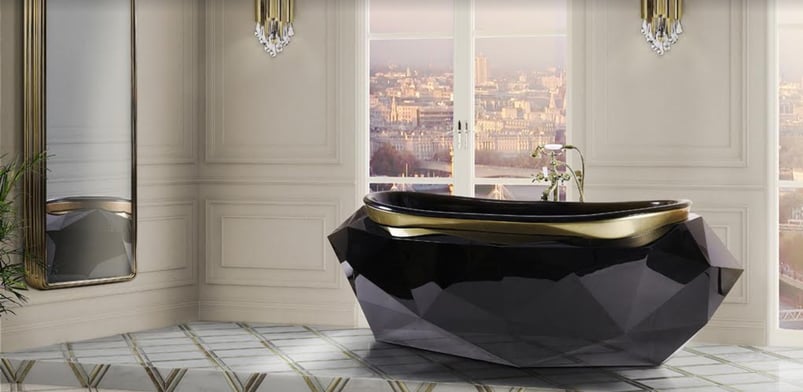 The Egg

This is not the first egg-shaped bathtub you see of course, but with this one Rexa Design added some much needed and subtly integrated storage. Beautiful in it's own right with modern, yet clean natural lines, you can also use it to store your lotions, shampoos, cosmetics or even a few complimentary decorations. Either way the egg gives you something very few others will have, that stunning contemporary shape with a twist.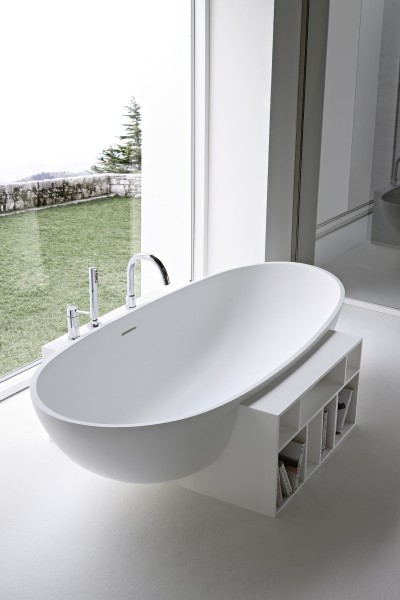 The Origami

Bathroom uniqueness cannot be better defined than with this Cristalplant® bathtub from Tailormade Stocco. This elegant piece is so brave yet unpretentious, and the light casts a peaceful ambiance over the entire bathroom. Simply looking at it can put your mind at ease.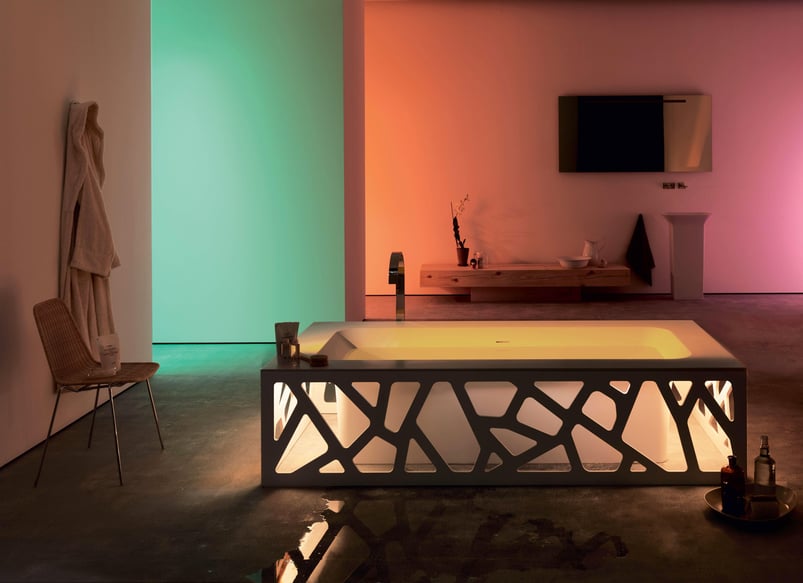 The Diamond by Acquadesign

Another Diamond Bathtub, but this time by Acquadesign and Swarovski. Designed by Catherine et Bruno Lefèbvre, this jewel is THE luxury item every fashion lover should have, making it an instant icon.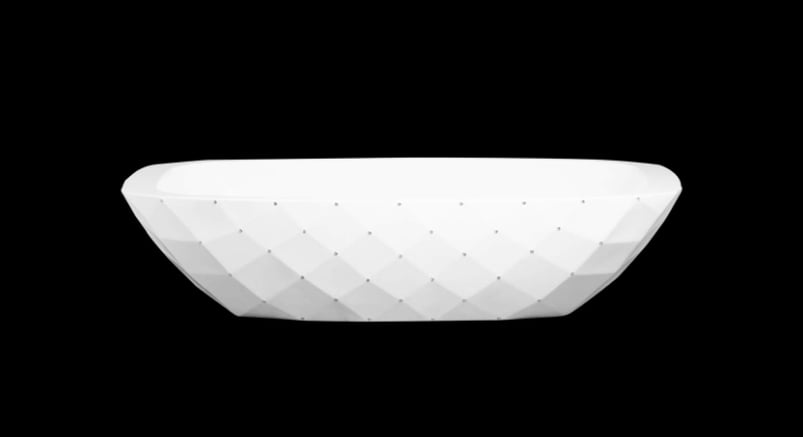 Le Grand Queen Bathtub

This bathtub is said to have healing qualities due to the energy released from its Caijou gemstone construction. In fact, it contains powerful energy as it's 180-million-year-old petrified wood that has been transformed into this beautiful bathtub. Designed by Simon Krapf and costing over 1.74 Million US dollars it is a very rare creation fit for the hyper rich. This piece of history is the most valuable bathtub in the world!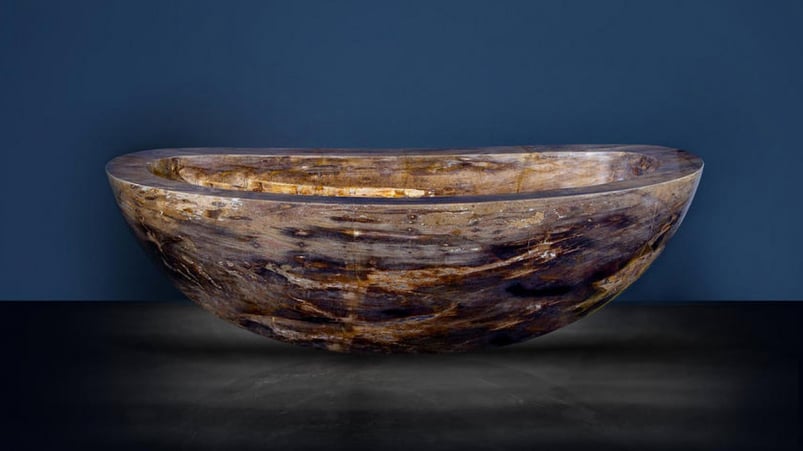 The Retro Heritage Decors Chesterfield bathtub by Acquadesign

Acquadesign is the one who offers this very feminine and retro bathtub, designed by Charles Edouard Vannet. This stunning free-standing bathtub is so bright it demands to be the central focus of any bathroom.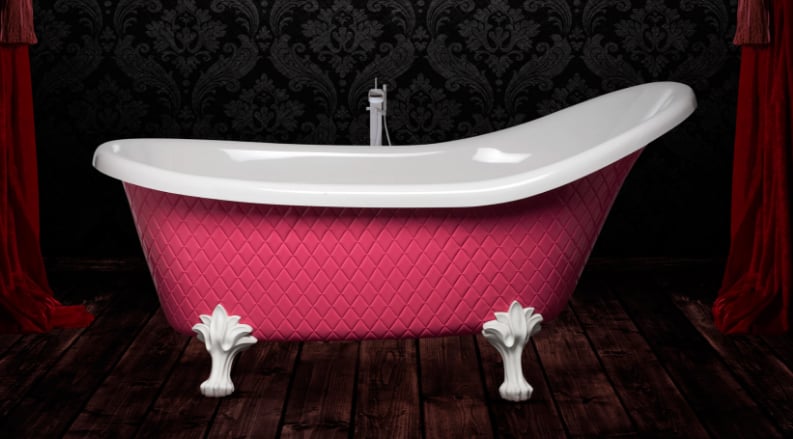 The Red Diamond

This bright red bathtub from Water Games Technologies is full of hyper-luxurious features. It massages, has multicolor lightening, two waterproof HDTV 42-inch televisions screens, champagne holders encrusted with swarovski crystals, a GSM system that gives you the ability to prepare your bath from anywhere and a heating system that is computer-controlled. Finally, parts of the bathtub are made out of solid gold, 42 grams of 18 carat in total. The only drawback is the eye watering price, $47 000!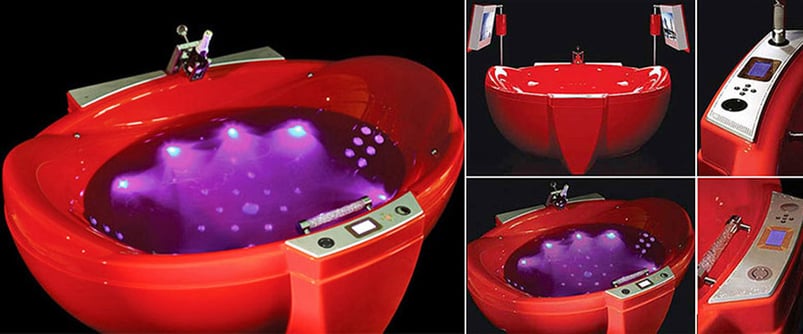 Dip D-Lighting & Chromo Bathtub by Acquadesign

The last Acquadesign in our impressive list is this illuminated tub designed by Michel Boucquillon. This bathtub can adapt to every mood, which I think you'll agree is one of the coolest most versatile features you can have!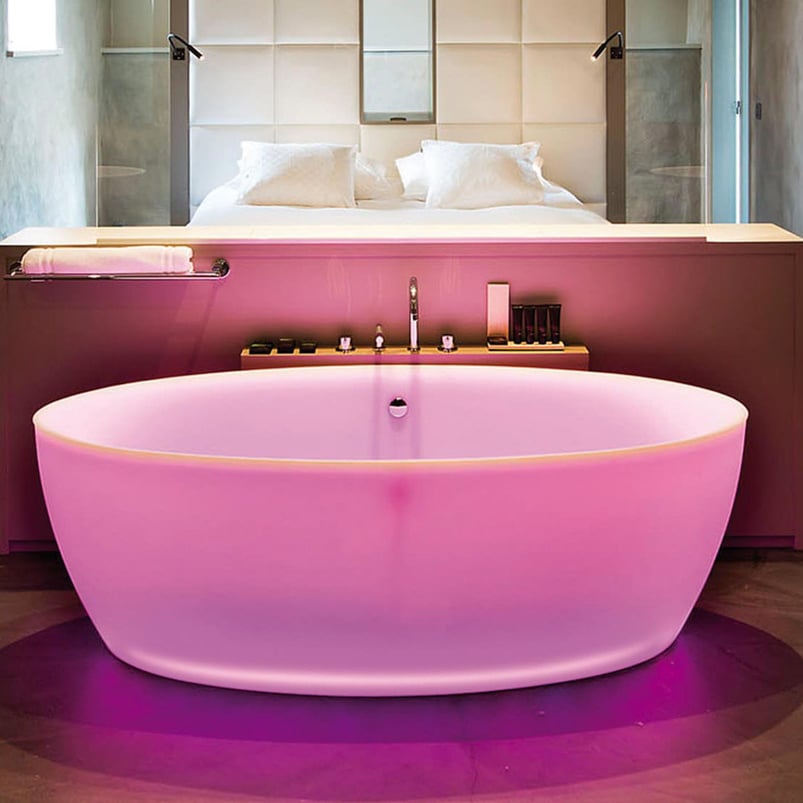 Aquamar bathtubs by Acquadesign

PSCBath teaches a lesson about the art of minimalist design with this beautiful golden bathtub, Aquamar in Cristalplant with a golden finish. The bath goes to show simplicity on the inside can be glamorously corrupted by a decadent finish.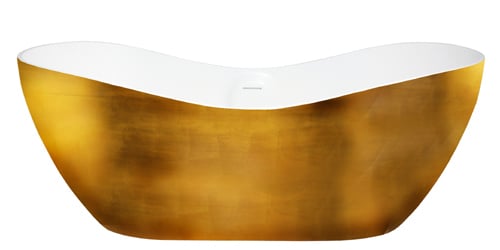 Stone One by Acquadesign

Alternatively take a look at this Stone One with Sicis mosaics finish to bring a whole new ambience and style into the bathroom.





The Rock Crystal Bathtub

Last but not at all least, the Rock Crystal Bathtub by Baldi is an extraordinary piece of art. Made out of a single block of crystal rock from the Amazonian forest, this bathtub simply stands in a class of its own. This "insane bathtub" has blown us away, not only by its beauty but also by its bank balance busing 1M Euro price tag.