Titanium testing & hotel talk with Bette
by Kevin Mullaney, on Feb 20, 2018 6:48:00 PM
Can you tell us a little about Bette?
Bette are a titanium steel manufacture, we make baths, shower trays, shower floors and washbasins. We are a family owned business based in Germany, in a town called Delbrück and we have a huge range of products.



What's new for Bette what have you brought to Sleep this year?
The showcase piece for us this year is called the Loft Ornament, this is a new bath and we're the first manufacturer to make an embossed bath made out of glazed titanium steel which is a totally new concept for us.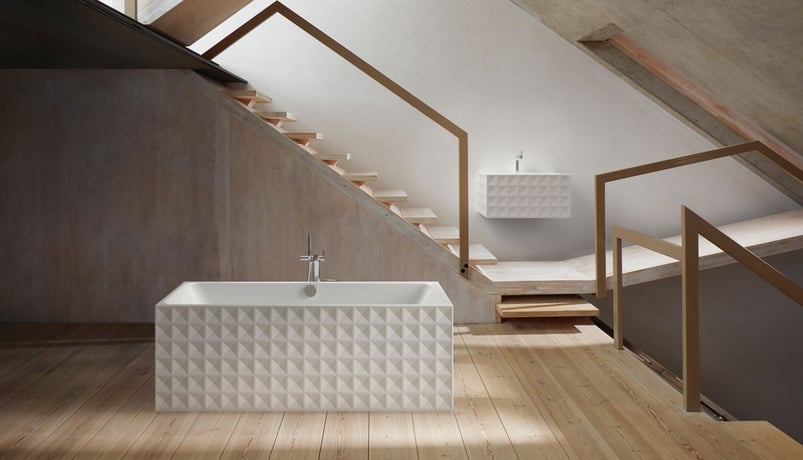 Loft Ornament bath and basin
What hot bathroom trends are you seeing at the moment ?
I'm seeing very sleek, minimal lines. I'm seeing a lot of our products becoming very refined so the rims are being refined so that you have more bath and everything looks very sleek.


What advice would you give to someone trying to get the hotel look at home?
I think with bathrooms it's really important to plan carefully. So you don't have to go for a traditional three suite piece with bath, basin and toilet. Instead go for something different that suits your needs best.


What is the one thing you'd recommend people install in their bathroom?
You have to really think about what you use. For example a lot people spend money on a bath they never use, so it just becomes a point in the room. Whereas if you're showering you really want to be standing in something that feels good, is quality and is going to last and with Bette you get a 30 year warranty.


Are there any absolute don'ts that you wouldn't bring over from the hospitality sector?
Not really and I feel that people really find their creativity from staying in hotel bathrooms. You've got to think if it will fit in your bathroom, so don't go for something too big or too small and use the space wisely.


We've been hearing a lot about space management being key in bathroom refurbishments so using a shower tray instead of a btah is a good idea?
That's right. A lot of people do shower so spend your money wisely, choose good products that are going to last and if you're going to shower then choose a really good shower tray.


Any comments on materials or finishes tht you like at the moment?
It seems like there's a lot of matt finishes out at the moment and one thing with Bette is we have over 1000 colours in our ranges and we do a lot of matt finishes. I think that's a really strong trend at the moment.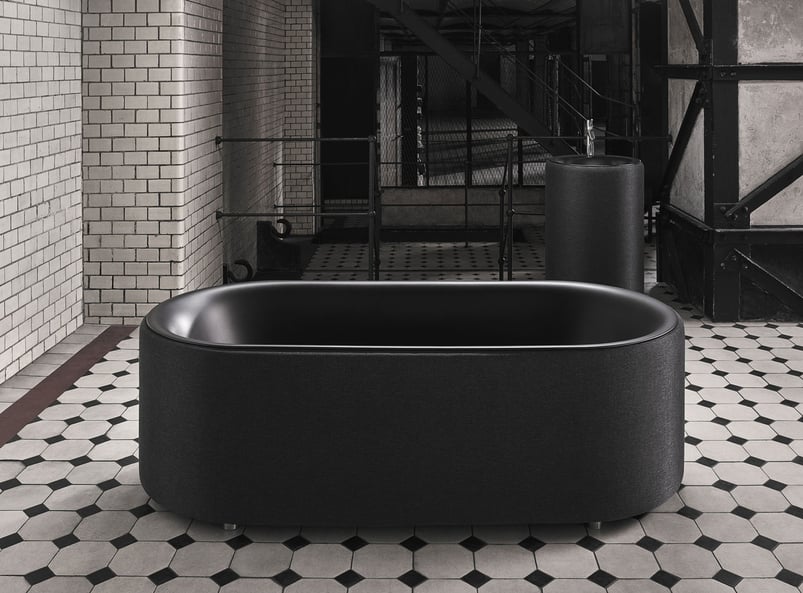 BetteLux Oval Couture free-standing bath
Looking to the rest of the year any predictions for 2018?
We are constantly designing and innovating so I can't reveal anything we're doing at the moment but expect some new things from us. In terms of trends, colours is always something we're looking at, to change our ranges to suit current trends.

As a special treat Foam & Bubbles was also invited to try the Bette Titanium Experience and put their metal to the test!