Top tips for creating an attic bathroom
by Tamsin Allen, on Jun 29, 2018 7:41:00 PM
As more and more of us expand our homes, it's important to know where bathrooms can be added. Loft conversions make perfect spaces for master suites - master bedrooms and en-suite bathrooms. Don't be put off by awkward room shapes as sharp angles, if embraced, can actually be quirky features. Here are our top tips for creating an attic bathroom.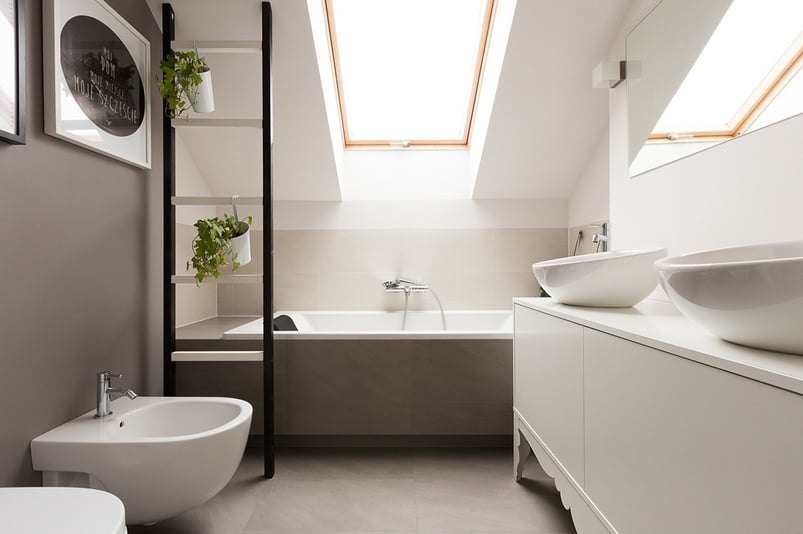 Consult the experts

The first thing you need to do, is consult a good builder about the space. You'll need to know that it's structurally sound and prime for conversion. Remember that building regulations will need to be followed and any potential setbacks should be viewed as opportunities for even better design rather than barriers.

Make your plumbing easy

The plumbing system will be the bulk of your cost (and the part you'll never see!) so make it as simple as possible by trying to site the new bathroom above an existing kitchen or bathroom below. This way pipework can easily be brought up rather than have a complicated system.

Always add light

Flood your attic bathroom with lots of natural light by installing skylights. In the image above, the bath has also been placed directly under the skylight – perfect for laying back and watching the stars at night.

Use height wisely

If you have space for a separate shower, the best place for it would be in the centre of the room. This will give you maximum head height. By the same principle, a bath fits perfectly under the eaves as you won't be standing up.

Check weight as well as height

Before setting your sights on a particular bath, make sure your floors can handle the weight of the bath when filled with water. If not, your floors may need reinforcing. Your builder will be able to advise you on this.

Streamline everything

You will always be left with unusual nooks and crannies so use these wisely for extra storage areas. Similarly, countertop basins with storage cabinets work well to keep it all streamlined and wall hung sanitaryware creates the illusion of more space.