Top tips for finding a bathroom fitter
by Tamsin Allen, on Feb 12, 2018 4:00:00 PM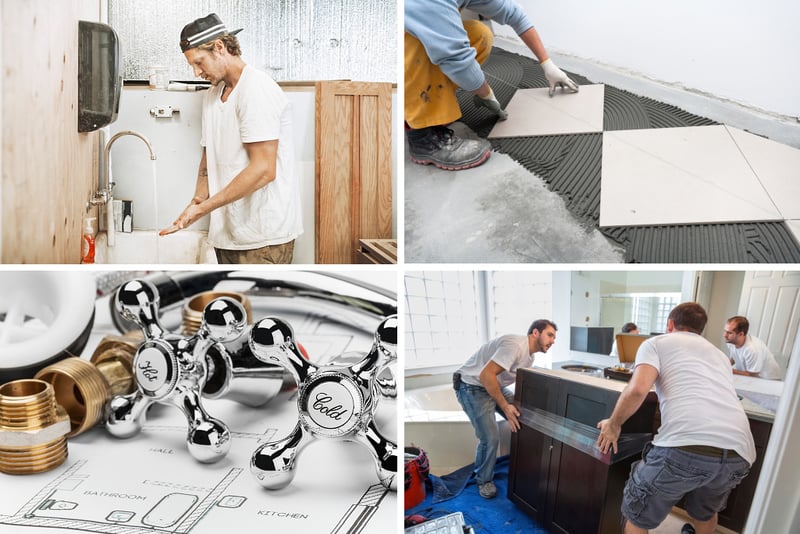 When fitting your bathroom, you have two choices, do it yourself or find a fitter. The DIY route is not for everyone so how do you safely find a reputed bathroom installer? Here are some tips that may help.
Ask for recommendations
If you know someone who has had a bathroom fitted, ask them for a recommendation. It may be worth waiting until they have had their new bathroom a while to make sure everything is functioning correctly. If you do not know anyone, ask for recommendations on social media sites, Facebook can be particularly effective for getting advice from friends.
Keep your eyes peeled
When driving around your neighbourhood, keep your eyes open for people having their bathroom renovated. Do not hesitate to knock and ask for the details of the fitter/plumber, it is a great way for them to drum up business, you can see their handiwork there and then and you know they work locally.
If in doubt, Google it
Sometimes there is no other option than Google. When you do find the details of a fitter, see if they are also listed on an independent review site so that you can read unbiased testimonials.
Seek out specialists
If your new bathroom is fairly straightforward, like swapping out like for like items and some new tiling, then you can source a general fitter. But if you are having a new rolltop installed or a fabulous wetroom, then it is best to hire a specialist. They will have relevant experience to handle the job and be better equipped to deal with any surprises along the way.
Get it in writing
After finding good fitters, ask them to quote. Ideally you want around 3 companies quoting. The quote should include a detailed breakdown of work to be done and any associated costs.
Hire a one stop shop, if possible
To ensure your installation goes as smoothly as possible, try to source a company that can do everything, electrics, plumbing and tiling. Otherwise you may find work grinding to a halt when waiting for the next person in the installation chain to turn up.
Keep communication open
Do not be afraid along the way to question. Additional costs, fitters not turning up on time and incorrectly delivered bathroom products are just some of the variables that can occur. When these things happen, get on the phone right away, question and query why. Cry if necessary (we are kidding), but remember that you are paying a professional for this and that they are accountable.
And finally, good luck
Having your bathroom installed is not a small job. There are many variables along the way that can affect ease of installation. But like most things in life, researching your project and fitter well and staying on top of the deliveries and schedule should make it an easier one.