F&B favourites from Clerkenwell Design Week 2018
by Dorothea Kotte, on Jun 11, 2018 5:23:00 PM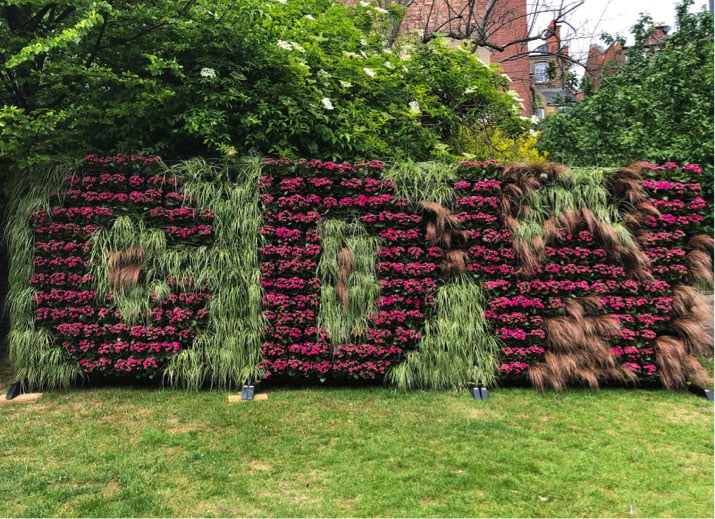 In its ninth year Foam & Bubbles got lost, yet again, in a wonderful world of creativity and innovation at this year's Clerkenwell Design Week. With the sun shining and so much on show, we made it our mission to find the best the bathroom industry had to offer, which was plenty!

This year Clerkenwell got its favourite colour back, the bright pink announcing Design Week had arrived. Here and there visitors had the chance to admire and play with the pink installations dotted around the sprawling design district. One of them was the beautiful gate in Spa Fields Park from Hakwood and Shape London, called 'Behind closed doors'. Each little window contained a playful design miniature which demanded your attention.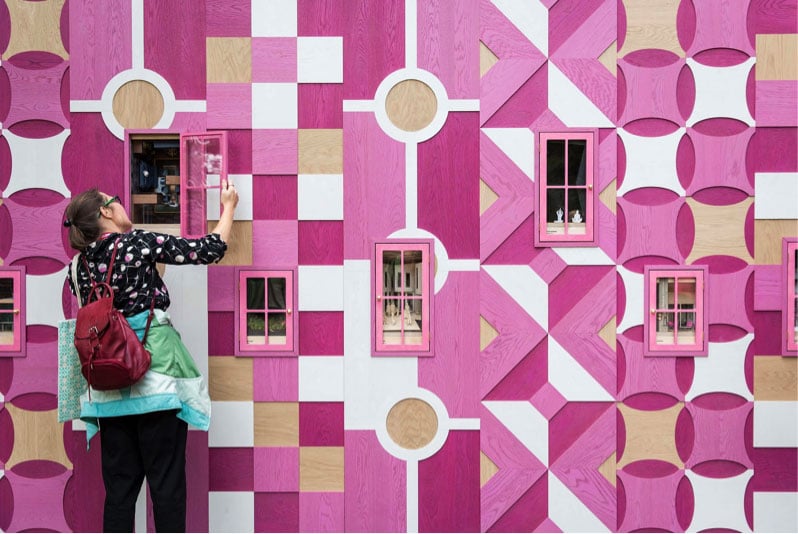 But at F&B, we came, of course, to admire the bathroom exhibitions so without further ado here are our highlights from the show.


Beautiful colours from Bette

Without wasting any time we made a B-line straight for the Bette exhibition in the Design Fields. The big draw for us was the launch of Bette's three new colour effect ranges where two of them took centre stage on their stand.

The first was the elegant Blue Satin effect, which is hard to take your eyes off. The fine shimmer and pearly illusion is understated until you walk around the bathtub and see something different from almost every angle.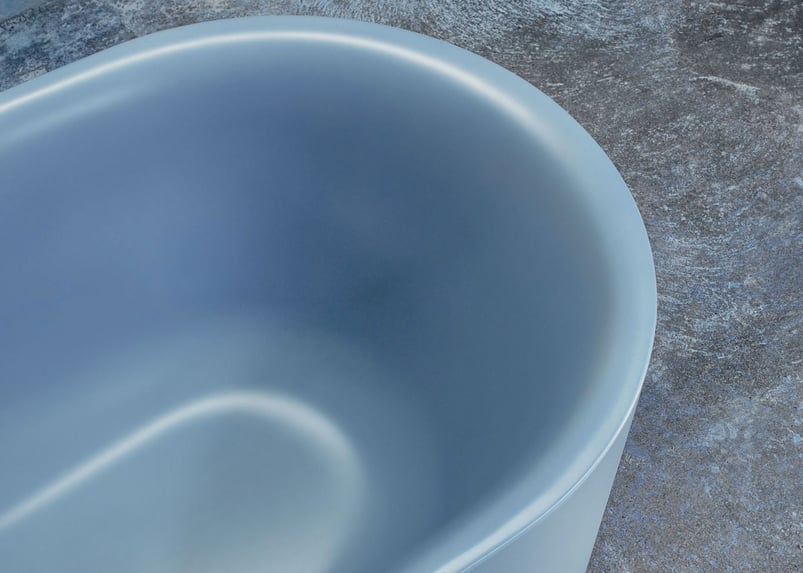 Bette - Blue Satin Bath

The second was the glamorous, contrasting Midnight colour effect which has a depth and richness of colour unique in the bathroom market. The matt, dark finish acts almost like a canvas brought to life by the glittering colours which jump out at you with every new reflection of light. It's quite mesmerising and certainly brings the wow factor!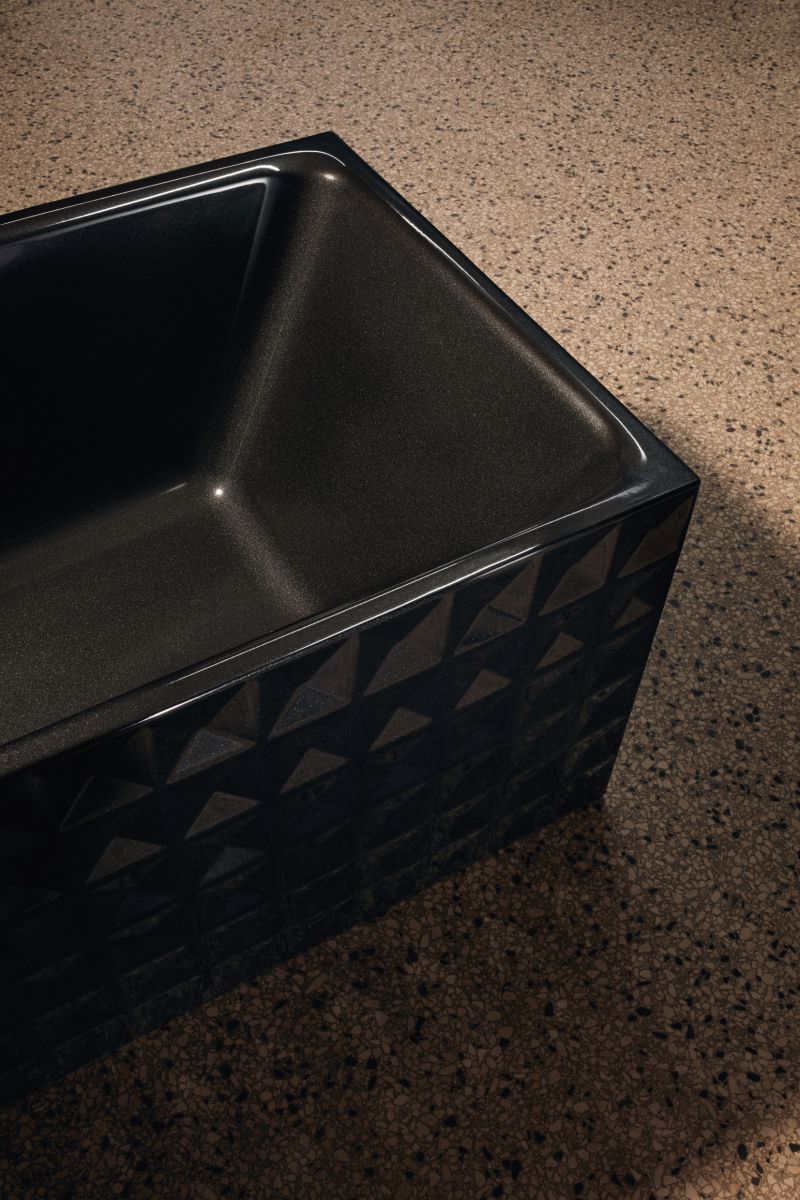 Bette - Effect-Colour Midnight Bath

Another newcomer at the show is the BetteStarlet Spirit which is now available with an 8mm folded bath rim, making the tub ideal for home and hospitality settings as its low profile allows it to fit seamlessly inset into stone as it was displayed on the day.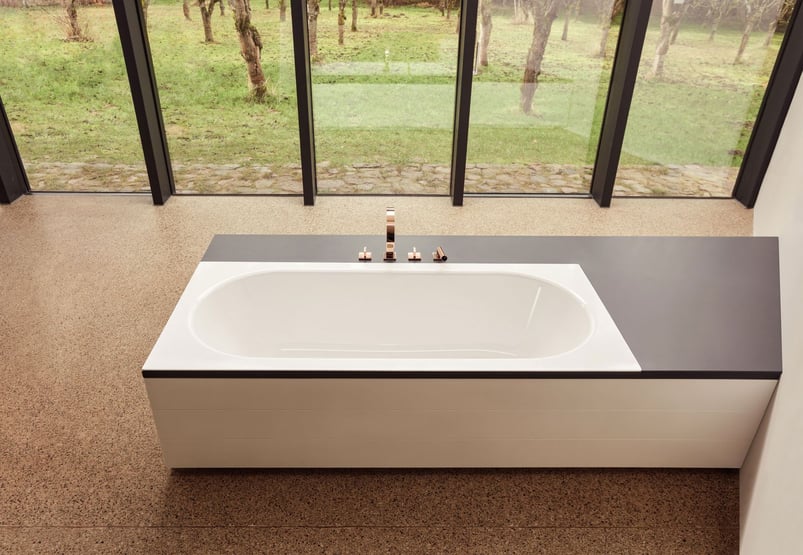 BetteStarlet Spirit Bath


British Ceramic Tile

No bathroom would be complete without the right tile scheme bringing it to life and neither would Clerkenwell! As the name suggests British Ceramic Tile were proudly flying the made in Britain flag all week with a busy schedule of partner talks, collaborations and drinks receptions which drew a large crowd to their flagship London Hub throughout the week.

On show was some of British Ceramic Tile's hottest new products being launched for the specifications market, the most striking and innovative of which was their new 'Rock' porcelain tile. This hard-waring tile adds an almost undistinguishable natural stone effect to their extensive portfolio and comes in either a matt, polished or hammered finish.




British Ceramic Tile - Rock


TOTO

Always a front runner and innovator when it comes to bathroom technology and innovation, TOTO did not disappoint at Clerkenwell! This year the new arrival was the Washlet™ RX shower toilet which comes with a seemingly endless list of revolutionary features.

What we liked most is probably the fact that you don't even have to touch the Washlet™ RX for it to open and this hands free capability is of course great for hygiene and usability. But funnily enough, it wasn't all the technological bells and whistles which got our attention but the stunning modern look and shape of this wall mounted masterpiece.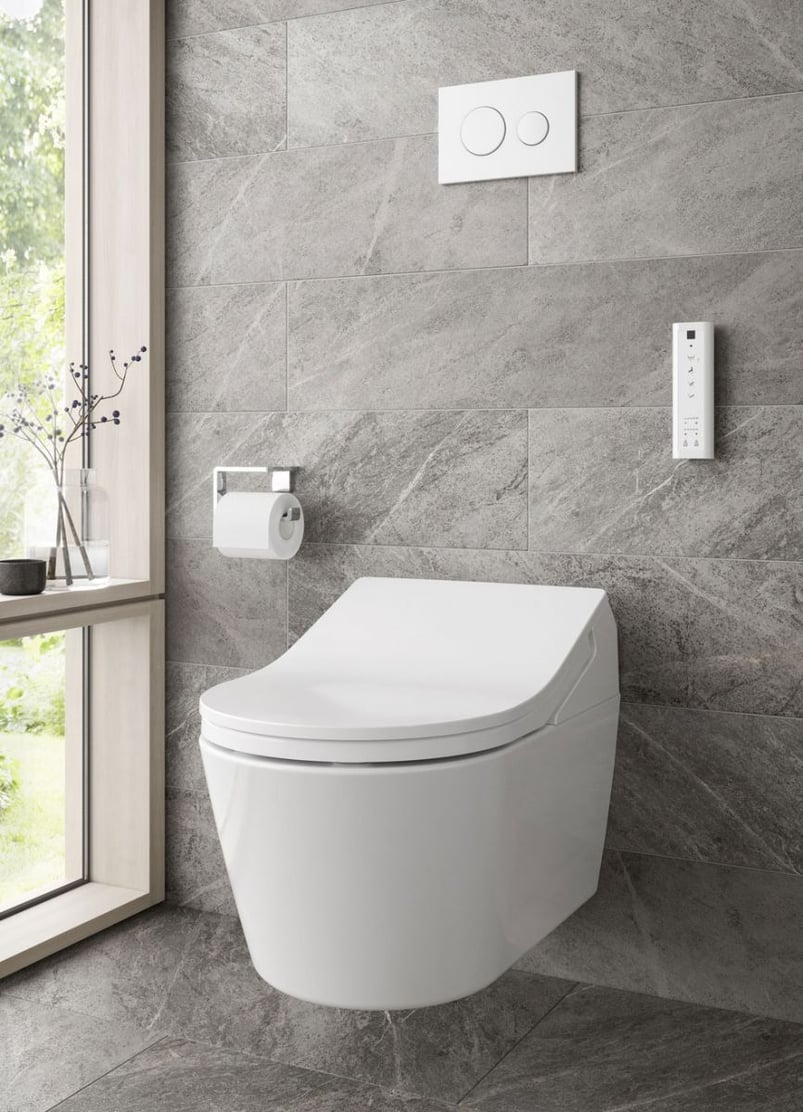 TOTO's Washlet™ RX


Kohler

Kohler's yearly offering at West One Showroom is never one to miss and their incredible new basin collections are one of F&B's stand out favourites this year. In particular, the Dutchmaster Basins bring a beautiful, and very on trend, touch of floral design which make them a real centerpiece of any bathroom.

We were also immediately drawn to the new Ombré finishes which Kohler offer in their Components and Sensate tap ranges, available in two colours: Vibrant Rose Gold to Polished Nickel, and Vibrant Titanium to Rose Gold. This is perfect for the bathroom that needs an unusual and elegant accent.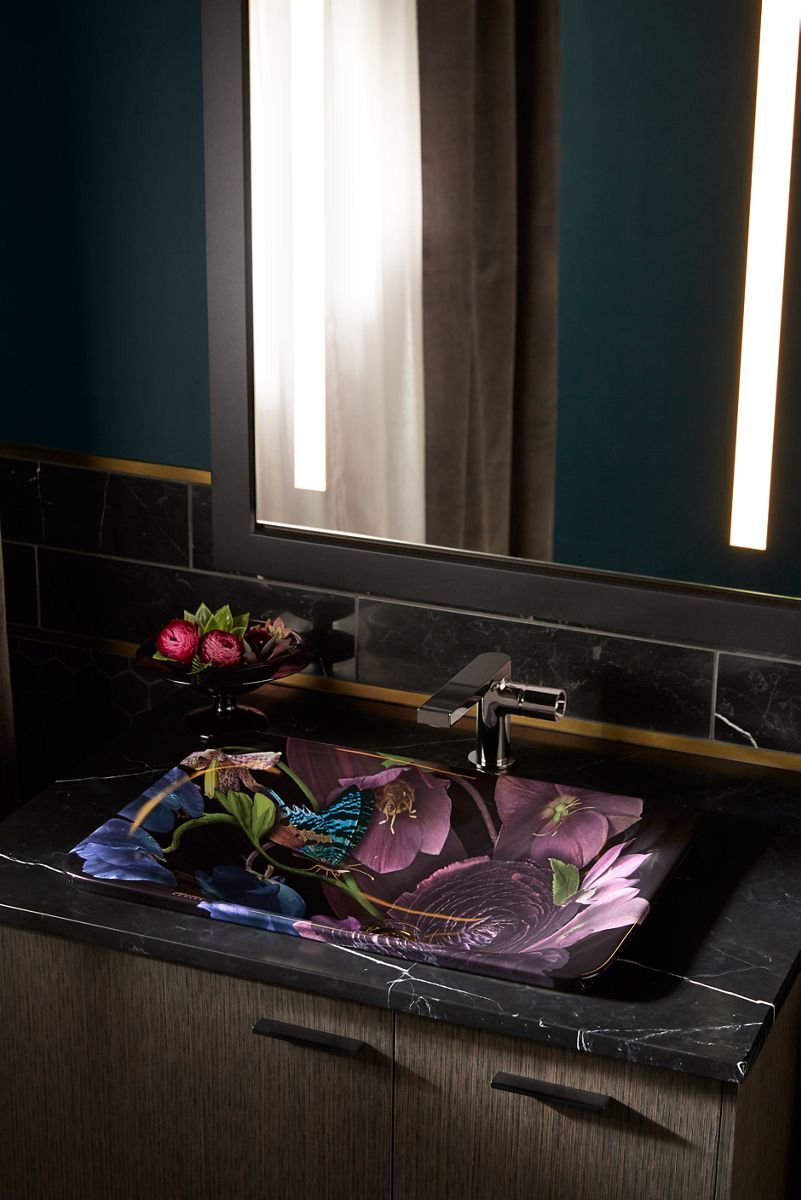 Kohler's Dutchmaster


Grohe X Mosa

This year F&B favourites GROHE teamed up with tile specialists, and Clerkenwell locals Mosa. This clever collaboration combined GROHE's smart water systems and Mosa's stylish surfaces creating the perfect synergy between technology and design.

The Mosa showroom was overflowing with German bathroom tech, most notably GROHE's Smart Control shower system which lets you easily and effortlessly switch between showering experiences using their digital control.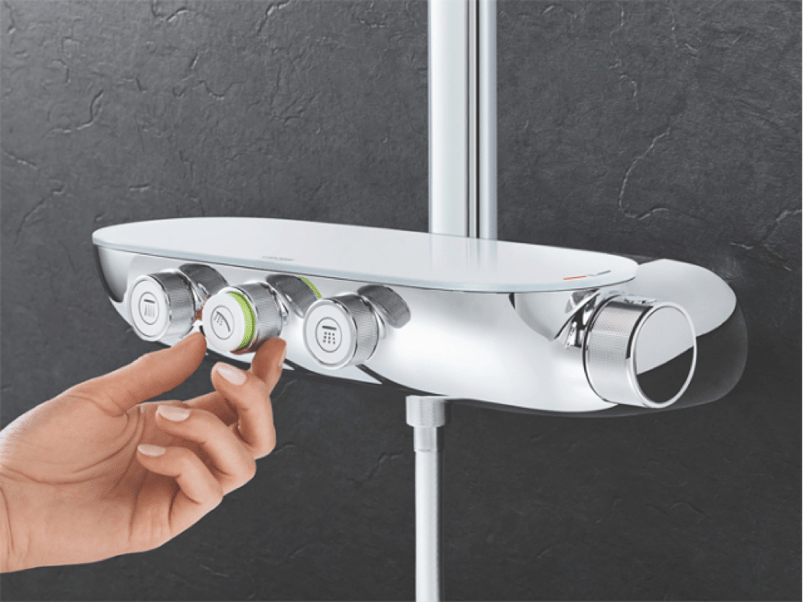 GROHE - SmartControl

Perfectly suited for the Design Week crowd, GROHE was also showing off its clever Blue Home Water tap which showed off its party trick of dispensing instant sparkling water and Mocktails on demand. Also on show was the Red, instant hot water tap which is proving to be incredibly popular in kitchens across the country.

But GROHE wasn't to be outdone in the style stakes either, unveiling their stunning new Atrio range which pays homage to its predecessor with an elegant aesthetic and versatility to suit both traditional and contemporary schemes.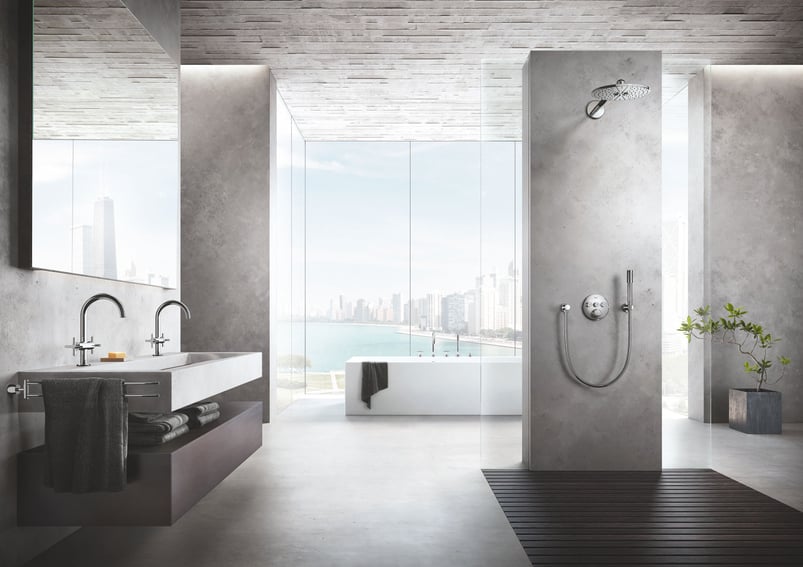 GROHE - Atrio Range


Axor

The stand out attraction at the Hansgrohe - Axor showroom this year was without a doubt the gorgeous and cleverly customisable MyEdition faucet series, developed in conjunction with long term partners Phoenix Design. The system is stunningly simple but creates individuality and real impact for a wide range of bathroom styles. The rectangular cover plate on each tap are interchangeable, with a wide range of rich materials to choose from including metal, wood, marble, leather or glass.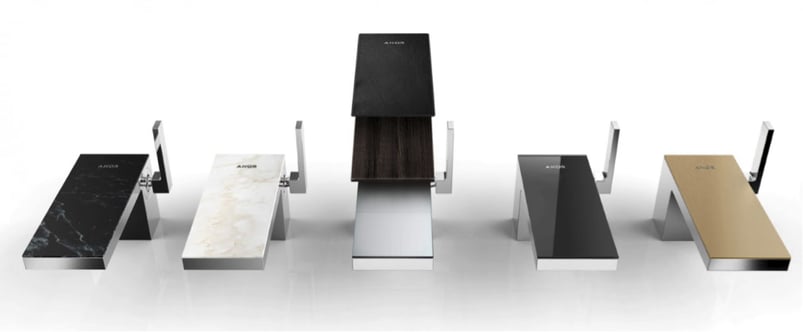 AXOR My Edition Collection